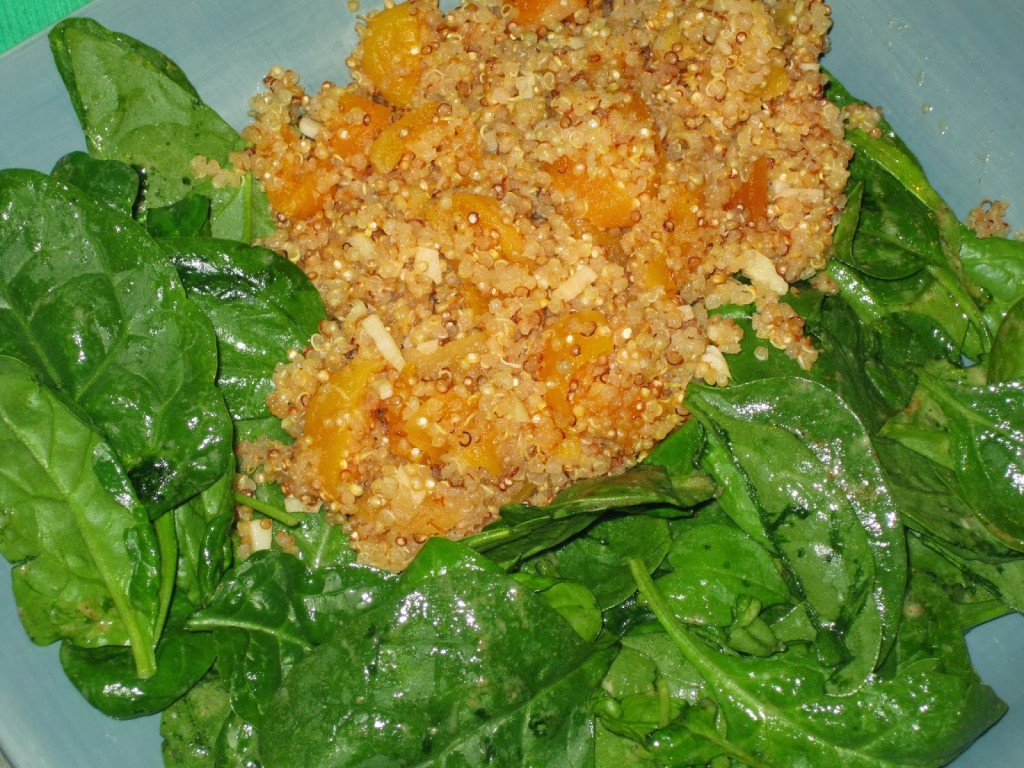 Our new love affair with quinoa began with this very dish. It has has become one of my favorite recipes, not just because it's one of our very favorite to EAT but also because it's one of the easiest to make. The Moroccan-spiced dressing's sweet and lemony flavors harmonize all the different tastes and textures of the quinoa, apricots and spinach. Yum! (Serves 2-4 people)

Ingredients:
1 cup quinoa
5 cloves garlic, minced
1/2 cup dried apricots, coarsely chopped
2 cups water
1/4 teaspoon salt
8 cups baby spinach
Moroccan-Spiced Lemon Dressing:
1/4 cup lemon juice
2 tablespoons soy yogurt
1 1/2 teaspoons agave
1/4 teaspoon ground cumin
1/4 teaspoon ground cinnamon
1/4 teaspoon ground ginger
1/4 cup water
1/4 teaspoon salt, or to taste
Freshly ground pepper, to taste
Instructions:
1. Toast quinoa in a dry skillet over medium heat, stirring often, until it becomes aromatic and begins to crackle, about 3 to 4 minutes.
2. Add garlic with a dash of water and cook, stirring constantly, until golden, about 1 minute.
3. Add the chopped apricots and salt, and then the water. Bring to a boil. Reduce heat to medium-low and cover for 15-20 minutes or until all the liquid is absorbed and the quinoa is very fluffy.
4. While waiting for the quinoa to "fluffifize", make the Moroccan-Spiced Lemon Dressing.
5. Divide the spinach among 4 plates (or 2 plates if you are big eaters like us). Mound the quinoa salad on the spinach and drizzle the dressing on top.