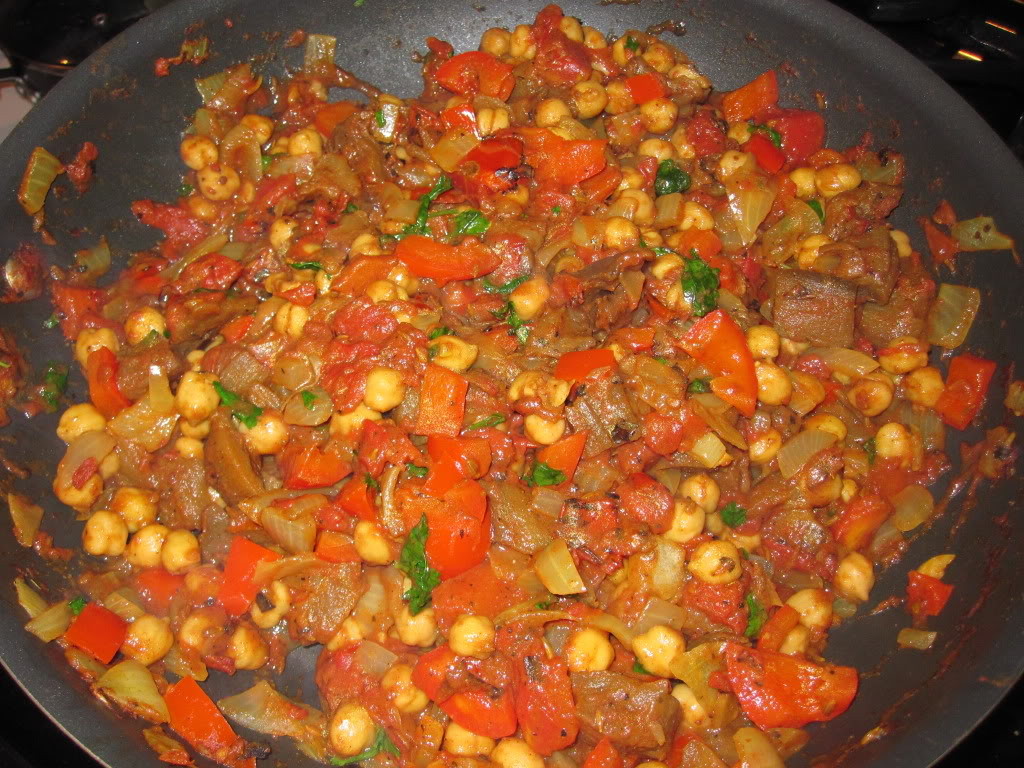 Whenever I eat out at a restaurant, I am drawn by a powerful magnetic force towards any dish with eggplant. It's in some of my most favorite things– baba ganouj, bharta, caponata. It's just so delicious. I've been hesitant to include eggplant in my cooking at home, however, because it can take a long time and I thought it wasn't as rich with nutrients as some other vegetables.
   Well, it turns out that eggplant is loaded with health benefits. In addition to high containing high levels of antioxidants, which help to stimulate the immune system and energy levels of the body, eggplant also contain a compound called terpenes, which are known to lower cholesterol. I'm thrilled! And while it's true some prep time is required, it's hardly complicated– if you can open the oven, then you can do it.
   This recipe is based on my favorite Indian dish, bharta. I chose to include garbanzo beans so it could be a one-pot-meal with plenty of fiber and protein. When you bring these spices home from the market, the wonderful smell will make your dream of far away lands. Once you start cooking, you're practically on your way. Mmmmmmm….
Ingredients:
1 large eggplant
1 medium onion, chopped
1 red bell-pepper, chopped
1 1/4 teaspoon cumin seeds
1 1/4 teaspoon ground ginger
1 1/4 teaspoon ground cinnamon
1 1/4 teaspoon ground cardamom
1 teaspoon ground coriander
1/2 teaspoon turmeric
1 15-oz can of garbanzo beans
1 14-oz can of diced tomatoes
1/2 cup water
1/4 cup fresh cilantro
1 teaspoon garam masala
Instructions:
1. Preheat oven to 400 degrees. Prick eggplant with a fork several times and place on a baking sheet. Bake for 45 minutes. Remove from oven and set aside until cool enough to handle. Peel and chop the eggplant.
2. Dribble a few tablespoons of olive oil on a non-stick skillet and turn to medium-hight. Add the onion and cook until it begins to turn golden. Add the bell pepper and cook for a few more minutes.
3. Clear a spot in the center of the skillet and sprinkle the cumin seeds directly on the hot surface. Stir and toast them for about 1 minute, until they become fragrant. Then stir them into the onions and peppers and add the cumin, ginger, cinnamon, cardamom, coriander, tumeric, and diced tomatoes.
4. Add the eggplant and cook over medium heat, pressing eggplant with the back of a spoon to break up large pieces, for about 10 minutes.
5. Add the garbanzos and enough water (approximately 1/2 cup) to keep the mixture moist. Cover tightly and turn heat to low. Cook for at least 15 minutes, stirring periodically, until the sauce has thickened and the flavors have blended.
Sources:
http://www.whfoods.com/genpage.php?tname=foodspice&dbid=22, http://www.manjulaskitchen.com/2009/10/09/baingan-bharta-eggplant/