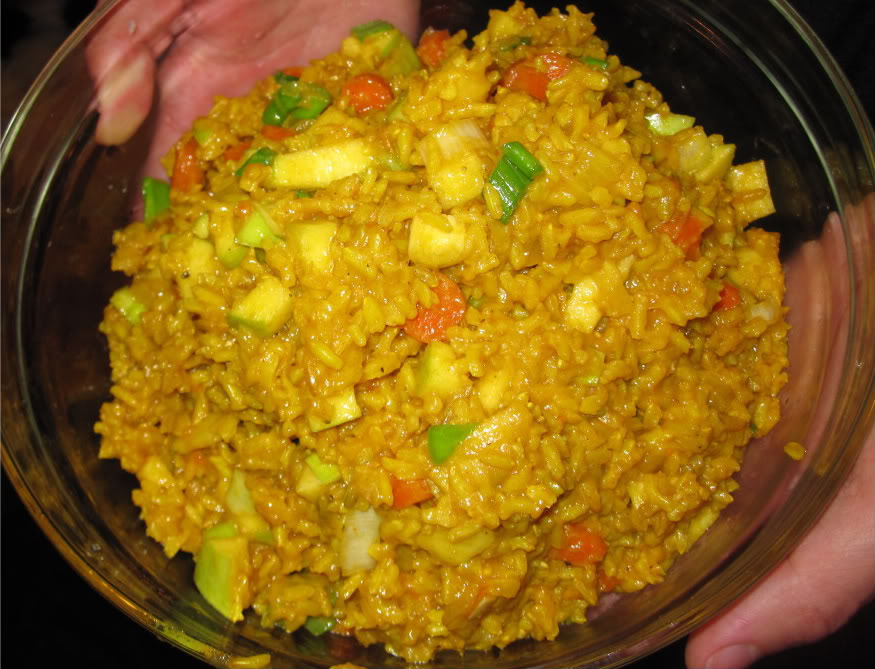 This dish is similar to paella but it has more sweetness in flavor. The apricot dressing is loaded with richness and spice, and makes the whole rice mixture really creamy. This recipe could easily satisfy 4 people, but keep in mind that before we started eating we were certain there would be leftovers but it was so good that we didn't want to stop eating. But hey, that's another great thing about eating a plant-based, whole foods diet– it's all good-for-you stuff, so helping yourself to seconds (and thirds and fourths) is fine!

Update: I tried adding a can of chickpeas to this dish and really enjoyed it. It's delicious either way, but I now prefer it with the chickpeas.

Ingredients:
1 tablespoon water or vegetable stock, for sauteing
1 medium sweet yellow onion, finely diced
2 cloves garlic, minced
1 teaspoon ground cumin
1 teaspoon fennel seed
1/4 teaspoon freshly ground pepper
1/2 teaspoon salt, or to taste
2 cups uncooked brown basmati rice
2 teaspoons turmeric
3 1/2 cups vegetable stock
3 large carrots, peeled and chopped
1 tart apple, diced and tossed with lemon juice
3 scallions, thinly sliced
Curried Apricot Dressing
1/4 cup apricot preserves
1/3 cup rice vinegar
1 tablespoon curry powder
1/4 teaspoon ground cardamom
1/4 teaspoon cayenne pepper
2/3 cup water
Instructions:
1. In a medium saucepan, heat the water or stock over medium heat and saute the onion and garlic until just softened, about 5 minutes.
2. Add the cumin, fennel seed, pepper, and salt. Saute for 1 minute.
3. Add the rice and stir constantly for 2 minutes or until the rice smells fragrant.
4. Add the turmeric and the 3 1/2 cups vegetable stock. bring to boil and cover.
5. Reduce heat to low and simmer for 40-45 minutes or until the liquid is absorbed.
6. Meanwhile, to make the dressing combine all the ingredients in a blender or food processor and blend until emulsified. Taste and adjust the seasonings.
7. After step 5 is done, remove the pan from heat and add the carrots, apple, and scallions. Stir so everything is all mixed in and then transfer to a large serving bowl.
8. Pour most of the dressing onto the rice and mix thoroughly. Taste and add the rest of the dressing, if desired, or reserve for another use. Serve, savor, and enjoy!
Source: This is based on a recipe from Colleen Patrick-Goudreau's "Color Me Vegan". (Her recipe calls for saffron, which I had planned to use but forgot to purchase. I used turmeric instead and we loved how it turned out so I'll continue to make this dish with turmeric in the future. I also omitted the oil.)