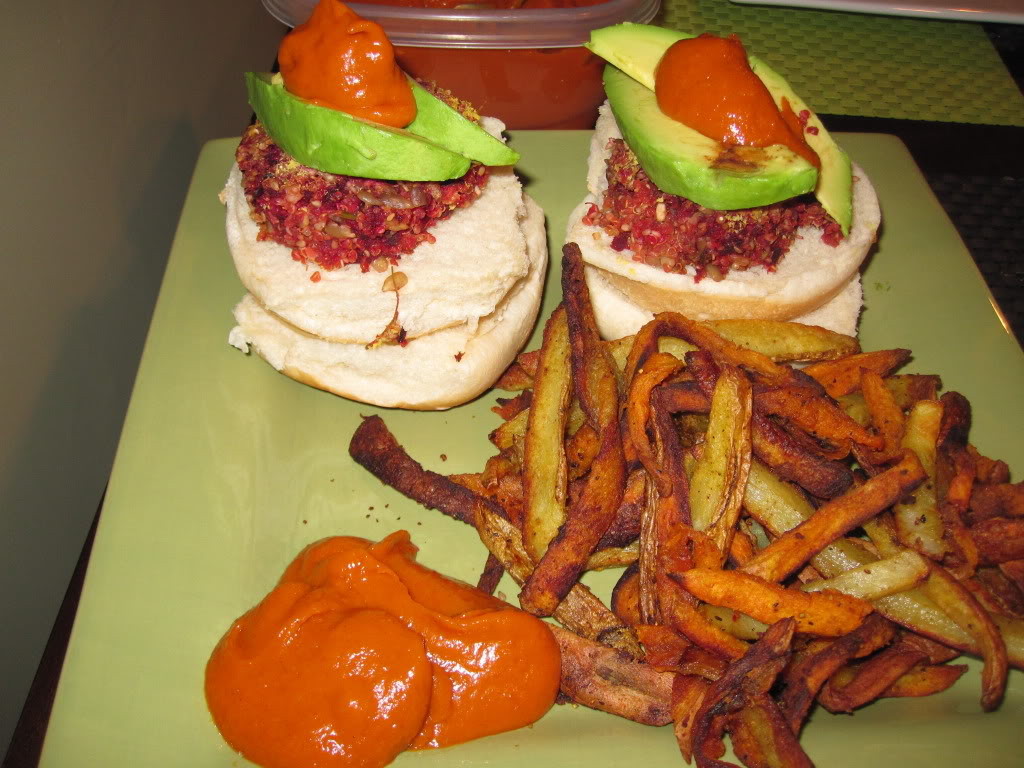 You CAN enjoy delicious comfort food while also being comforted by the abundance of cancer-fighting, eyesight-promoting, and heart-supporting nutrients in this truly happy meal.
Ingredients:
For burgers:
2 large beets
2 cups cooked quinoa
1 cup toasted sunflower seeds
1/2 cup toasted sesame seeds
1 small onion
1/4 cup oil
3 tablespoon finely chopped fresh parsley
4 cloves garlic, finely chopped
3 tablespoons tamari/soy sauce
1/4 teaspoon cayenne pepper
1 tablespoon ground flax seed
3 tablespoon water

For fries:
2 large sweet potatoes
1 tablespoon oil
1 teaspoon salt
Freshly ground pepper
1/2 teaspoon ground cumin

For ketchup:
2 tablespoons olive oil
1 medium yellow onion, chopped
3 lbs. ripe tomatoes, cored and chopped
1/2 cup packed dark brown sugar
1/4 cup apple cider vinegar
1 teaspoon salt
1 teaspoon dry mustard
1/2 teaspoon celery salt
1/2 teaspoon garlic powder
1/4 teaspoon ground cloves
1/4 teaspoon allspice
Instructions:
For burgers:
1. Preheat the oven to 350 degrees.
2. In a large bowl, combine the grated beets, quinoa, sunflower seeds, sesame seeds, onion, oil, parsley, garlic, tamari, and cayenne. Add salt to taste.
3. In a separate bowl mix, the flax seed and water until thick and gelatinous. Stir into the beet mixture.
4. Begin to form uniform-size patties (aim for about 12). If they are falling apart, create more of the flax seed and water mixture to add in.
5. Bake for 25 minutes, or until firm. Carefully flip halfway during the cooking time.
6. Suggested burger toppings: avocado slices, grilled red onions, sliced tomatoes, and Follow Your Heart's Vegenaise (a delicious eggless–and thus, much healthier–mayonnaise).

For fries:
1. Preheat the oven to 400 degrees. In a small bowl, combine the cumin, salt, and pepper. Set aside.
2. Cut sweet potatoes in half lengthwise, and then each half into six slices.
3. In a large bowl, combine the sliced potatoes, oil, and spice mixture. Toss until the potatoes are evenly coated.
4. On a baking sheet, arrange the potatoes in a single layer. Bake until edges begin to crisp, about 40 minutes.

For ketchup:
1. Add olive oil to a large saucepan over medium-low heat. Add the chopped onions and cook, stirring, until the onions are soft but not brown, about 10 minutes.
2. Add the chopped tomatoes (including all juice and seeds), brown sugar, vinegar, salt, dry mustard, celery salt, garlic powder, ground cloves, and allspice to the onions. Stir well to combine.
3. Bring the mixture to a boil and then reduce the heat to a simmer. Cook uncovered, stirring occasionally, until most of the liquid has evaporated, about 1 hour 15 minutes.
4. Allow the mixture to cook slightly, then place into a blender. Puree for about 1 minute, or until completely smooth.
5. Taste and add more salt if desired. Pour the mixture into an airtight container and keep in the refrigerator for up to 3 weeks. Serve chipped or at room temperature. Yum!!
Sources: Recipes inspired from Color Me Vegan and Susan Odell; See health benefits of sweet potatoes, beets, tomatoes, and avocados