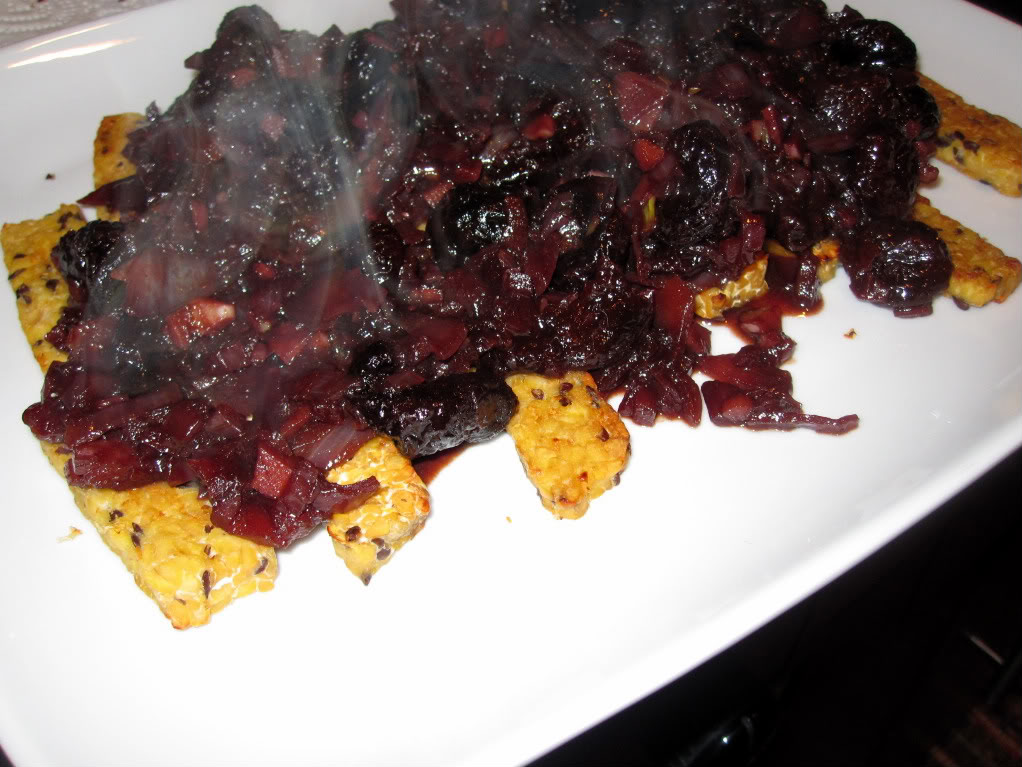 This week I have been experimenting with some fancy vegan dishes to serve at my parents' Passover seder. This dish definitely fits the bill. The colors and flavors are so rich and romantic. And it's so easy to prepare that it shouldn't be limited to special occasions.
Ingredients:
1 package tempeh, cut into 1/2-inch strips
3-4 tablespoons olive oil, divided
2 tablespoons water
3 tablespoons granulated sugar
1 cup fresh halved cherries or 1/2 cup dried cherries
3 tablespoons balsamic vinegar
1 yellow onion
4 cloves garlic
1 cup dry red wine
1/2 cup vegetable stock
1/2 cup nondairy milk (such as almond, soy, rice, hazelnut, hemp, or oat)
Instructions:
1. Steam the tempeh for 10 minutes in a steamer basket placed in a pot filled with a small amount of water.
2. Heat a large skillet with 2 tablespoons of the olive oil over medium-high heat and sear the tempeh until it's crispy on one side, about 5 minutes. Turn and do the same on the second side. Each side should be golden brown.
3. Remove the tempeh fro the skillet and set aside on a plate lined with paper towels (to absorb some of the oil).
4. In a small saucepan, combine the water and sugar and gently stir over medium-high heat until the sugar is completely dissolved.
5. Immediately remove the pan from the heat and stir in the cherries and balsamic vinegar. (If the sugar hardens after you add the cherries and vinegar, just return the saucepan to low heat and gently stir until the sugar melts once more.) Remove the pan from the heat and set aside.
6. Meanwhile, in the skillet you used for the tempeh, heat the remaining 1-2 tablespoons olive oil, and add the onion and garlic. Saute until the onion turns translucent, about 5 minutes.
7. Add the wine, bring the mixture to a boil, and boil until reduced to around 2/3 cup.
8. Add the stock, return the mixture to a boil, and cook until reduced to 2/3 cup again.
9. Stir in the milk and the cherry mixture and cook for just 5 more minutes until it's reduced a little more and thickened up.
10. Divide the tempeh between 2 plates and top with the sauce. Enjoy!
Source: Color Me Vegan