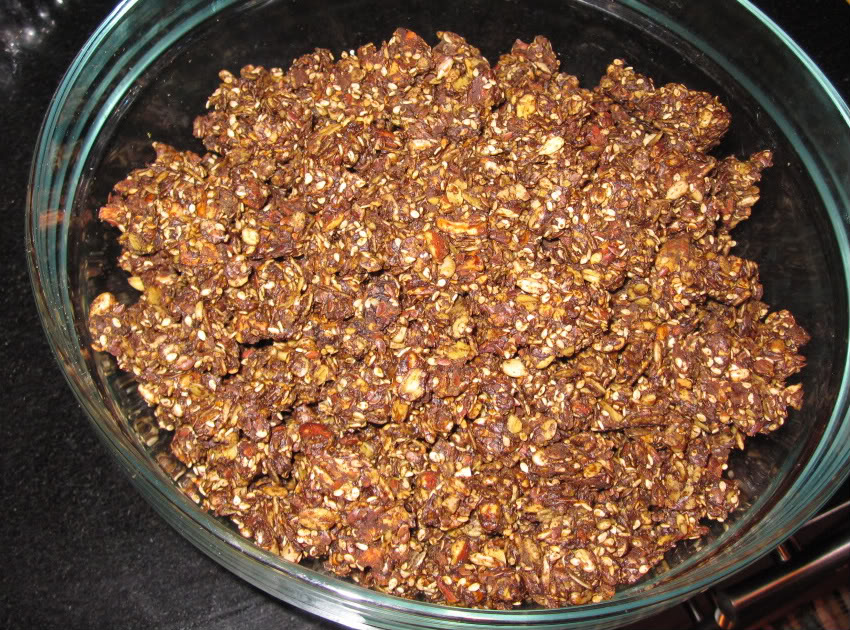 Can granola motivate you to get out of bed in the morning? This one sure can! Yes, it is that good. Not only will you adore the taste, but it's packed with fiber, protein, and essential fatty acids so it'll leave you well-nourished and well-satiated for hours. I love eating it dry while Robert usually eats it with almond milk. Either way, it's good stuff!

Ingredients:
1 apple, diced
2 cups oats
1 cup sunflower seeds
1 cup ground flaxseed
1 cup hemp protein
1 cup unhulled sesame seeds
1 cup raw almonds, diced
3 tsp cinnamon
1/2 tsp nutmeg 1 packet ground stevia leaf (1/2 tsp)
1/2 tsp sea salt
1/2 cup molasses

Instructions:
1. Preheat oven to 250 degrees.
2. Combine all the ingredients in a bowl and mix well.
3. Spread on a baking tray lined with parchment paper. Bake for 1 hour or until toasted. Let cool and store in the fridge.