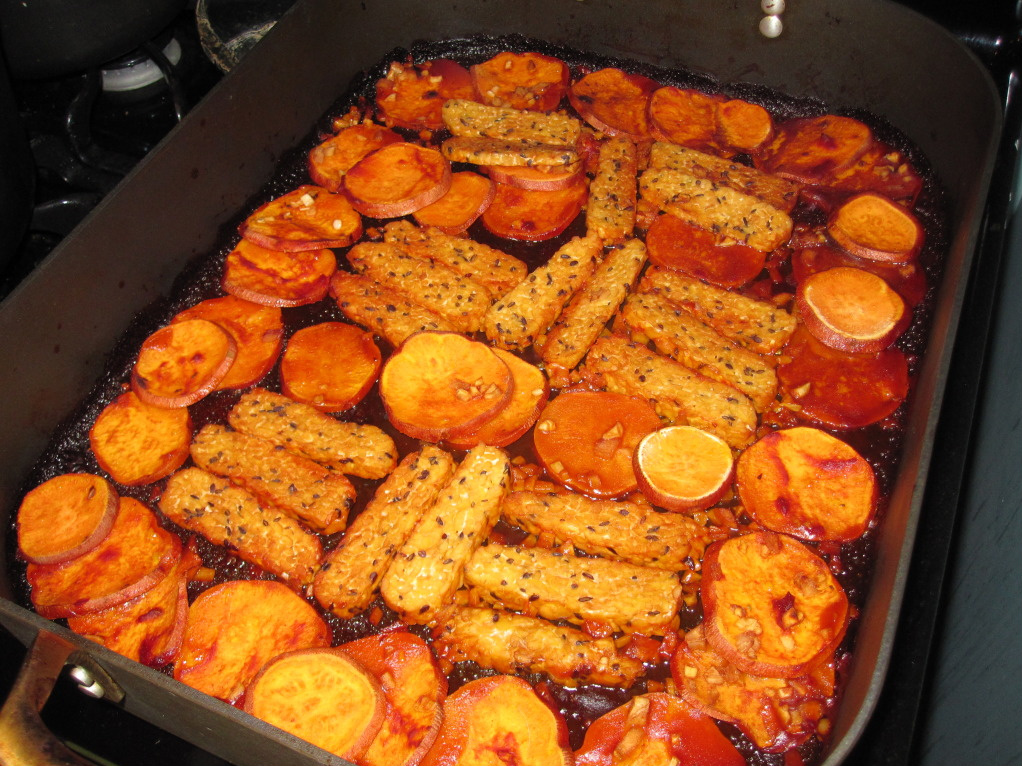 Ingredients (Serves 4):
4 cloves garlic
1 tablespoon minced fresh ginger
3/4 cup vegetable broth
2 teaspoon arrowroot dissolved in 1/4 cup water
2 tablespoons tomato paste
1 tablespoon tamarind concentrate
3 tablespoons agave or maple syrup
2 tablespoons tamari or soy sauce
1 teaspoon liquid smoke
1/8 teaspoon cayenne (optional)
1 1/2 pounds sweet potatoes, peeled and sliced into chunks or rounds
12 ounces tempeh, cut into 1/2-inch slices
Instructions:
1. Spray a casserole pan (preferably not glass) with nonstick cooking spray.
2. In a medium-size mixing bowl, whisk together all the ingredients (except the sweet potatoes and tempeh). Make sure to get the tamarind dissolved.
3. Place the sweet potatoes and tempeh in the prepared pan. Pour the sauce over them. Be sure everything is coated well, using your hands if necessary. You can bake immediately or let marinate for at least an hour to get more flavor into the tempeh.
4. When ready to bake, preheat the oven to 400 degrees. Cover the pan with tinfoil and bake for about 25 minutes.
5. Remove from the oven and toss out the tinfoil. Flip the tempeh and sweet potatoes, making sure to scrape the bottom with a spatula in case anything is sticking.
6. Bake for another 30 minutes, flipping everything once. The sweet potatoes should be tender but not mushy, and the sauce should be thickened and coating everything. Give thanks and enjoy!
Source: Appetite for Reduction by Isa Chandra Moskowitz