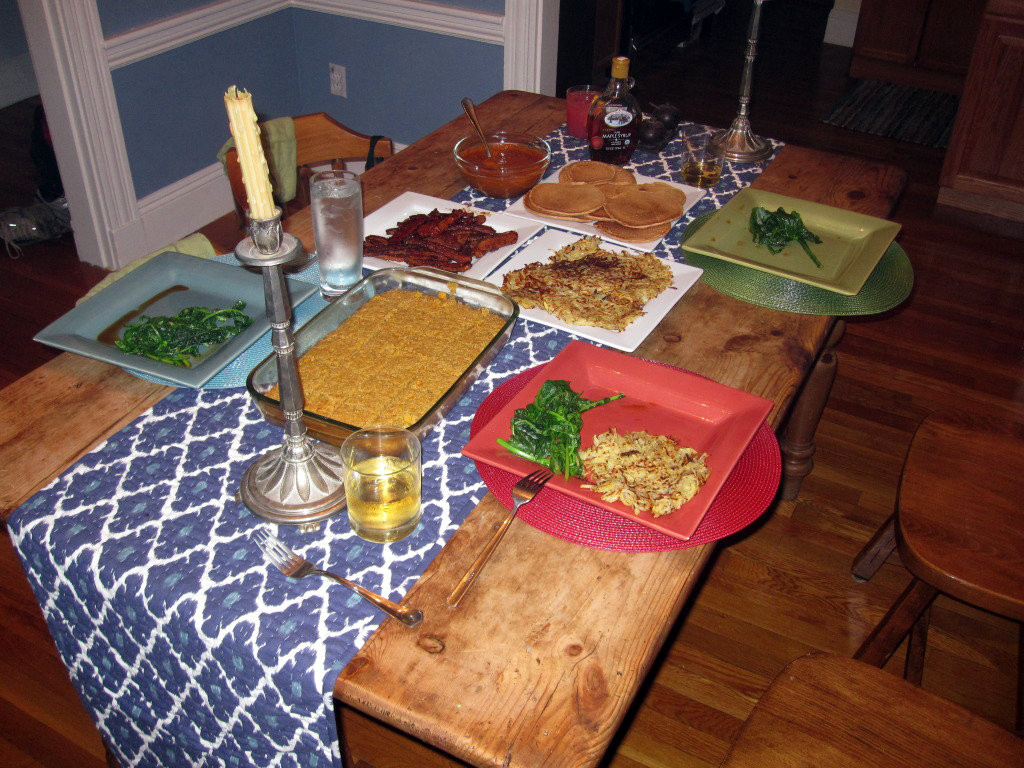 Robert's brother, Clint, came to visit us at our new place in Boston over July 4th and had the excellent idea to celebrate the holiday with breakfast for dinner. I loved this idea because it allowed us to serve up lots of American classics with our own stamp of independence (read: everything was vegan). Another huge plus was that all our banging around in the kitchen and chatter drowned out most of the fireworks so Gubie had his very first non-suicidal July 4th. A revolutionary evening indeed!
QUINOA CORN BREAD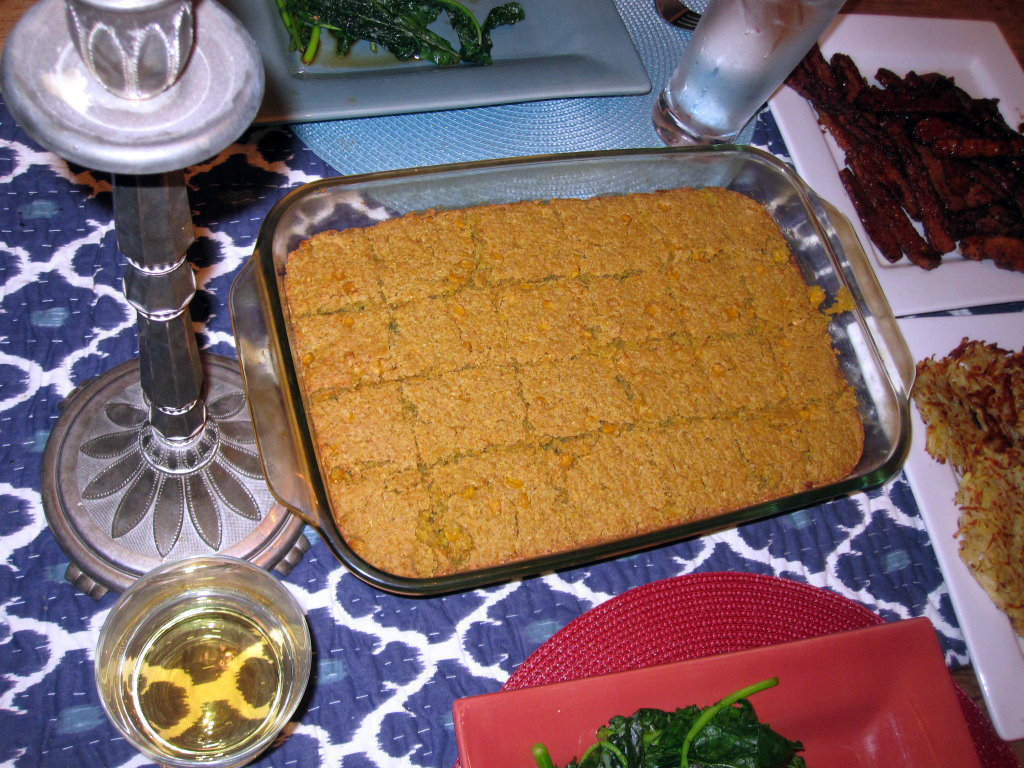 Ingredients:
1 cup quinoa
2 cups water
1 cup fresh corn kernels
1 1/4 cups cornmeal
1/3 cup spelt flour
1 tablespoon oat flour
1 tablespoon brown rice flour
1 1/4 tablespoons baking powder
1 teaspoon baking soda
1 teaspoon sea salt
1 tablespoon unrefined sugar
1 cup soy milk
1/3 cup maple syrup
1/3 cup unsweetened applesauce
1 tablespoon flax eggs (a fantastic egg substitute: place 2 parts warm water and 1 part ground flax seeds in a blender and blend at high speed for about a minute or until the mixture becomes gelatinous. Will keep, covered, in the refrigerator for up to 2 weeks.)
Instructions:
1. To make the quinoa, first toast quinoa on a dry pan over high heat for 2 minutes. Add 2 cups of water and bring to a boil. Reduce heat to low, cover, and simmer for 18-20 minutes until quinoa is fluffy.
2. Preheat oven to 350 degrees and get out a 13x9x2-inch baking pan.
3. In a large mixing bowl, combine the corn, cornmeal, flours, baking powder, baking soda, salt, and sugar. In a separate bowl, mix together the soy milk, maple syrup, applesauce, and flax eggs. Add the wet ingredients to the flour mixture and stir well to combine. Stir in the cooked quinoa. Pour the mixture into the prepared pan and bake for 30-35 minutes, or until a toothpick inserted in the center comes out clean.
DINER-STYLE PANCAKES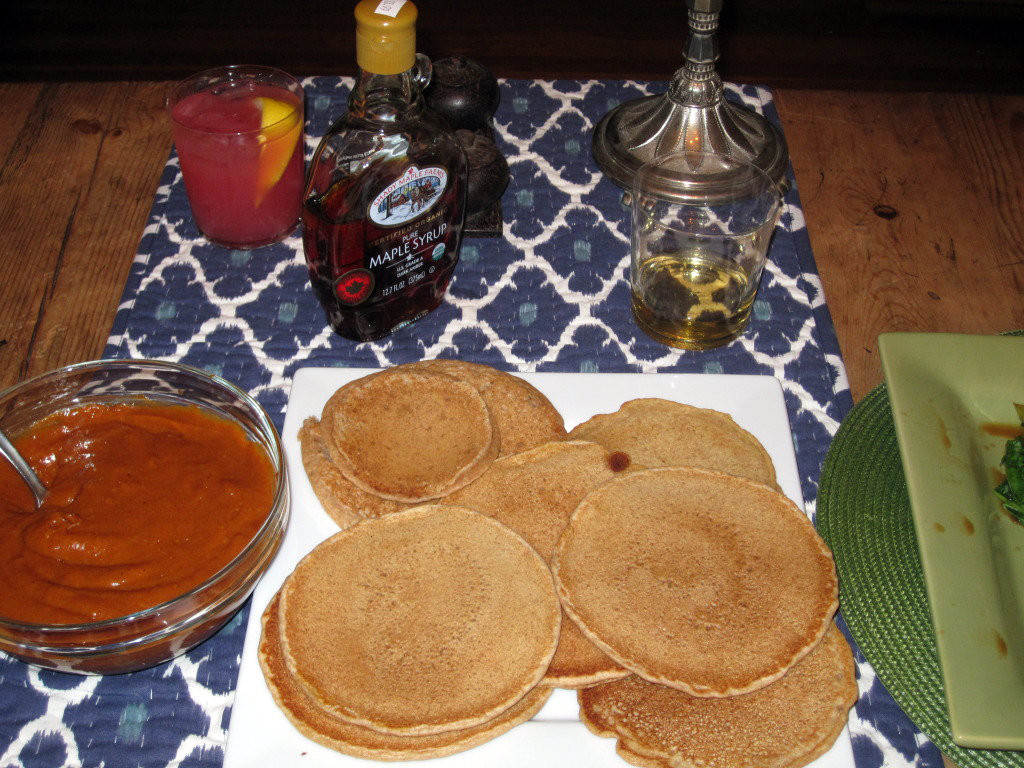 Ingredients:
1 1/4 cups sifted unbleached white or spelt flour (for gluten-free, use oat flour)
2 1/2 teaspoons baking powder
2 tablespoons unrefined sugar
3/4 teaspoons sea salt
1 1/2 teaspoons flax eggs (see corn bread recipe for instructions) dissolved in 1 tablespoon soy milk
1 3/4 cups soy milk
1/2 teaspoon vanilla extract
3 tablespoons canola oil, plus more for cooking the pancakes
maple syrup (optional)
Instructions:
1. In a large mixing bowl, combine the flour, baking powder, sugar, and salt. In a separate bowl, combine the dissolved flax eggs, soy milk, vanilla extract, and oil. Mix ingredients from both bowls together, stirring well to combine.
2. In a large skillet over medium heat, heat some oil. Drop large spoonfuls of batter onto the skillet, leaving room for the pancakes to expand. Cook until the bottoms are golden and bubbles are popping on the surface, about 2-3 minutes. Flip the pancakes and cook until golden. Repeat, using up all the batter.

TEMPEH BACON + HASH BROWNS + HOMEMADE KETCHUP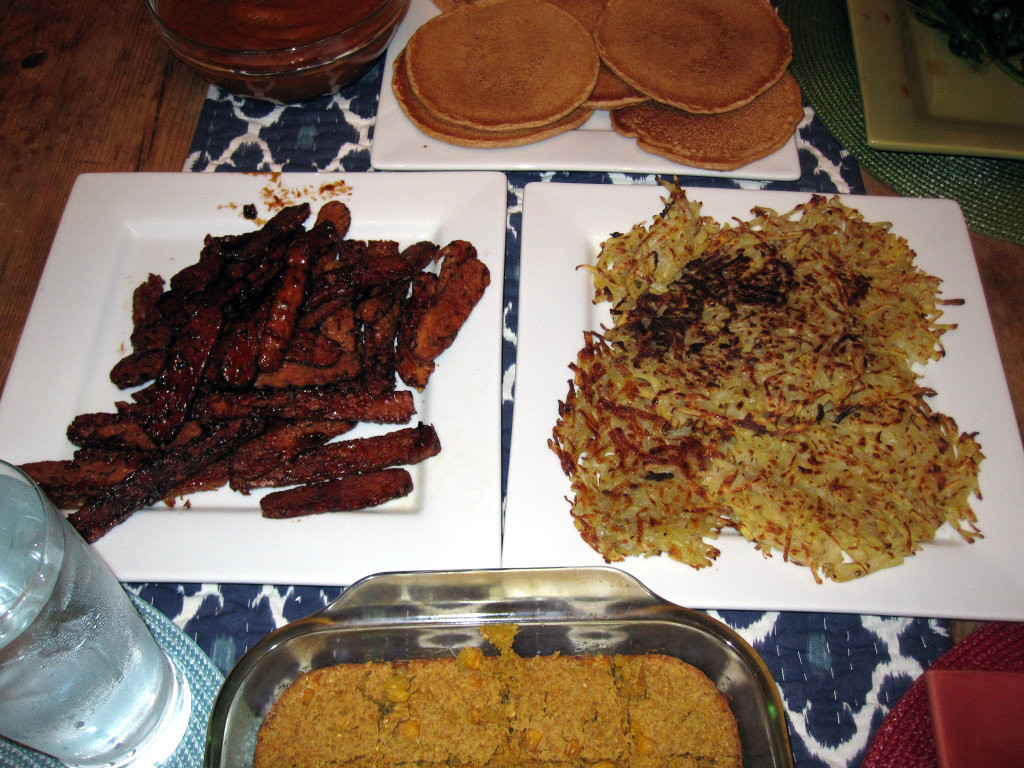 I used Colleen Patrick-Goudreau's 
tempeh bacon
recipe and used the remaining marinade to saute the greens. We served our
homemade ketchup
with the hash browns. Here's the recipe for the hash browns:
Ingredients:
3 lbs. yukon gold potatoes, grated
3 tablespoons canola oil
Salt and pepper to taste
Instructions:
1. Heat oil in a large frying pan over medium-high heat.
2. Add the grated potatoes in loose patties or piles, no more than a half inch think. Sprinkle some salt and pepper on top. After a few minutes, check the underside for doneness. Once they are golden brown, use a large spatula to flip the patty and fry till golden brown on the other side. Repeat with all patties.
RED, WHITE, AND BLUEBERRY CHEESECAKE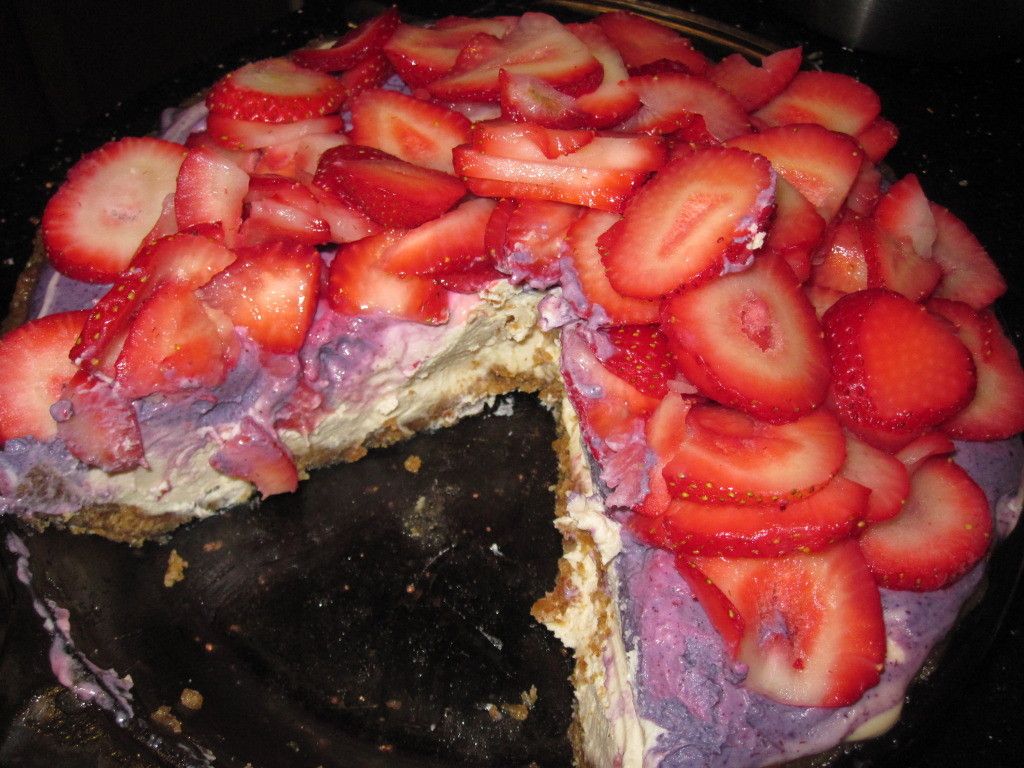 For this recipe I added blueberry frosting and fresh strawberries to my
raw vegan cheesecake
. Here's the recipe for the frosting:
Ingredients:
1 cup raw cashew pieces, soaked overnight
1 cup water
4 tablespoons agave syrup
1 teaspoon vanilla extract
1/4 cup coconut oil, melted
1 cup blueberries
Instructions:
1. Pulse the cashews in a food processor until crumbly. Add the water, agave, and vanilla and blend until smooth. With the food processor running, stream the coconut oil in through the top until combined. Add blueberries and puree till smooth.
2. Spread on top of the cheesecake with a spatula before putting in the freezer as instructed.