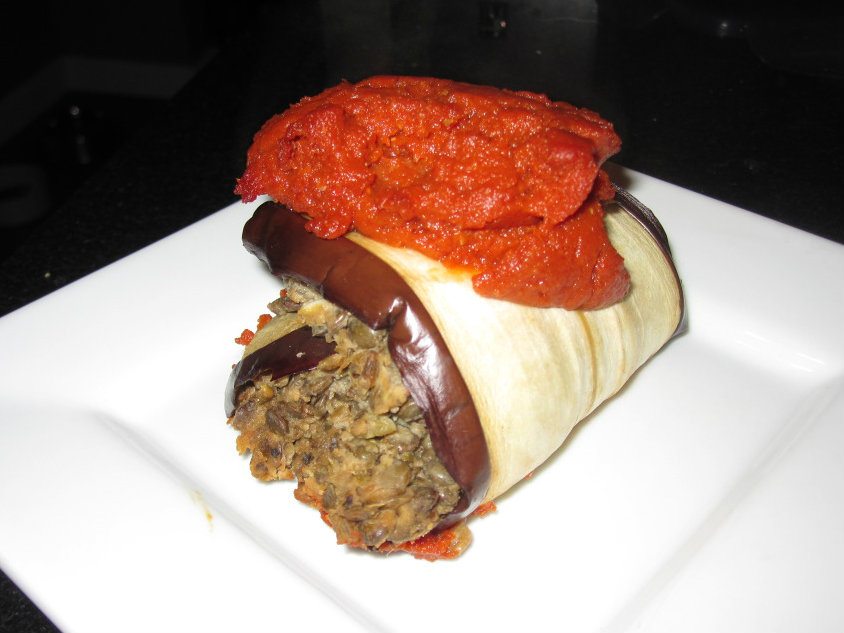 I don't like to do taste tests while I'm cooking when I follow a recipe for the first time. I prefer to wait till the dish is complete to assess and then make notes in my cookbook if necessary. The first time I was cooking this dish, though, I took a little spoonful of the filling just before I put it in the oven and was totally impressed. (To think I had only picked this dish out because I like eggplant!) The tahini makes the filling so deliciously rich and creamy. The finished result is even better with a sauce that has just the right amount of sweetness and tang. The ingredients are so clean and simple but they come together in a way that truly surprised me. The only note I made for this was to double it for next time!
Ingredients:
Filling:
2 eggplants
3 cups cooked lentils
1 tbsp miso paste
3 tbsp tahini
2 tbsp fresh minced oregano
2 tbsp fresh minced basil
2 tbsp fresh squeezed lemon juice
2 cloves garlic, minced
Sauce:
1 cup sundried tomatoes, soaked in warm water for 20 minutes
1 can diced tomatoes
1 small can tomato paste
1/4 tsp salt
2 garlic cloves
2 tbsp chopped fresh basil
1 date
2 tbsp shallot, minced
Instructions:
1. Cut off the ends of the eggplants. With flat end down on the cutting board, slice into 1/4-inch strips.
2. Heat oven to 350 degrees. Lay the eggplant strips flat on a parchment paper-lined baking sheet. Bake for 15 minutes and then set aside until cool enough to handle.
3. Meanwhile, in a medium bowl, mix together all the remaining filling ingredients. Set aside.
4. Blend all the sauce ingredients together in a blender until fully combined.
5. Spread 1 cup of the sauce on a baking dish. On a separate work surface lay each eggplant strip flat and spread 1 heaping tablespoon of filling (though if you like your rollatini thick there's no need to hold back!). Roll up into a cylinder and and place atop of the bed of sauce.
6. Pour the remaining sauce on top and cover with aluminum foil. Bake for 30 minutes, until heated through and the sauce is bubbly.
Source: Thrive Foods by Brendan Brazier