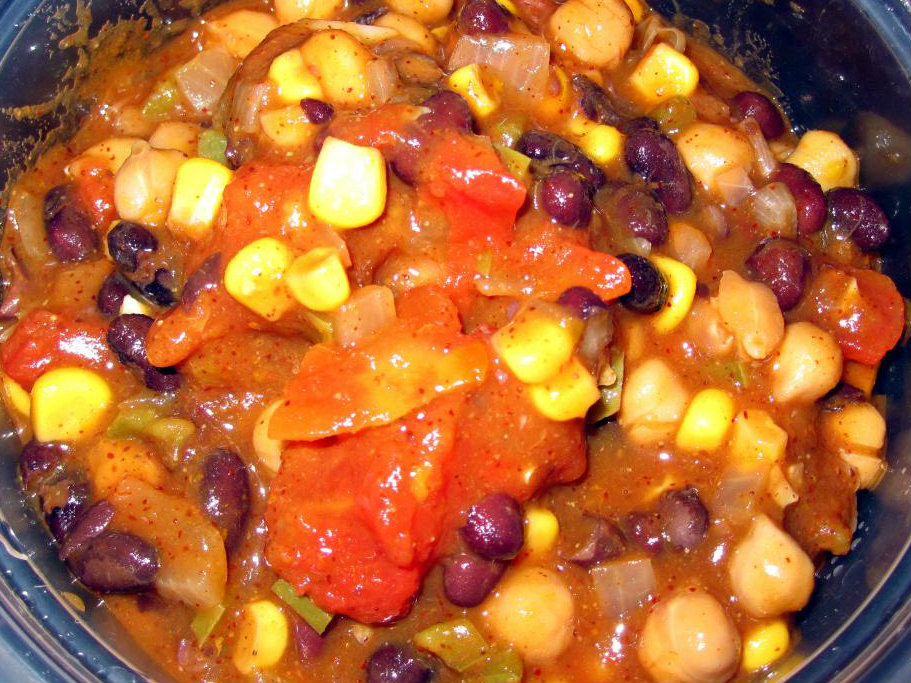 Believe it or not, I used to hate cooking. I resented having to follow directions for an activity that I believed was meant be creative. But every time I tried to get creative, tossing in a little of this, a dash of that, followed by a twirl, a curtsey, etc., the food was just a sorry disappointment. After too many failed dishes I knew I needed to follow instructions but I still wanted to feel like the dish was my creation. I was able to find a happy balance making dishes that called for just a few ingredients and minimal measuring. For those who are new to cooking, short on time, or just looking for a unique take on chili, this recipe delivers. It is so simple. All you have to do is chop a few vegetables and dump a few cans, but it also feels really creative and unusual because of the pumpkin. The result is a delicious chili that's warm, comforting, and just a touch sweet.
Over time, you could also get more creative and try adding different colored peppers, other kinds of beans, or using sweet potato instead of pumpkin (see below for more ideas). With such good and simple flavors it would hard to mess this one up.
Ingredients:
1 onion, diced
2 cloves garlic, diced
1 red bell pepper, diced
1 can (15 oz) organic corn, preferably sweet
1 large can (28 oz) fire-roasted diced tomatoes
1 can pumpkin puree (NOT pumpkin pie puree)
1 can chickpeas, drained
1 can black beans, drained
1 tbsp chili powder
2 tsp cumin
1/4 tsp cayenne (optional)
1 cup vegetable broth or water (more if you prefer a thinner consistency)
Instructions:
1. In a large skillet over medium heat, saute the onion, garlic, and red pepper in 1-2 tbsp water or vegetable broth for about 10 minutes or until tender.
2. Stir in the remaining ingredients, increase the heat to high, and bring to a boil.
3. Immediately reduce the heat to medium-low and simmer for 15-20 minutes until heated through. Serve hot.
Variations to try:
– To make this chili thicker and heartier, add 2 cups cooked quinoa after step 2.
– Add fresh or frozen de-thawed greens, such as kale, spinach, collards, etc., while simmering during step 3.
– For a slightly sweeter chili, use canned sweet potato instead of pumpkin.
– Double or triple the ingredients to make several days' worth of food. Leftovers can also be frozen.
– Try using just one kind of bean (for example, only black beans) or add several different kinds in addition to the beans already used (such as pinto, kidney, and white beans).