For this video in the "
Delicious Veggie Dishes
" series, my assignment was to come up with a "cauliflower sauce recipe." I could interpret that in any way I wanted so instead of doing a sauce
for
cauliflower, I decided to do something more unexpected and make a sauce
with
cauliflower.
     What I came up with is a nacho cheese sauce. Yes, you read that right. And it is ridiculously good. In fact, it is shockingly good. Never in a million years would anyone guess that cauliflower is the secret ingredient.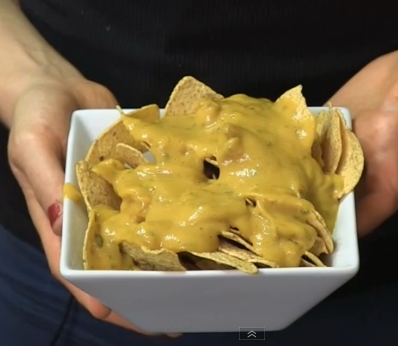 Mr. Goldhouse said the only way he could tell it wasn't the typical nacho cheese sauce was that he didn't feel like garbage after eating it. That's because, unlike typical nacho cheese sauce, this recipe relies on unprocessed, health-promoting ingredients to provide the abundance of flavor that will keep anyone going back for more. And because cauliflower is so good for you, you ought to keep going back for more! More proof that you need not eat junk to satisfy your taste buds.
Ingredients:
2 cups water
3 cups small cauliflower florets
1 teaspoon granulated onion powder
2 cloves garlic, peeled, or 1 teaspoon garlic powder
¼ teaspoon smoked paprika
1 teaspoon dry mustard
1 tablespoon turmeric
¼ cup nutritional yeast
1 tablespoon mellow white miso or a little salt
2 tablespoon cornstarch
2 teaspoons lemon juice
salt to taste
½ cup salsa
Instructions:
1. Bring the water to a boil in a medium saucepan. Add the cauliflower, water, onion powder, garlic, paprika, mustard, and turmeric. Cover tightly and reduce the heat to very low. Simmer until the cauliflower is so tender that it easily comes apart when poked with a fork, about 15-20 minutes.
2. Carefully transfer the contents of the saucepan to a blender. Add all remaining ingredients. Cover and blend, starting on low and increasing the speed until you're at the highest setting. (Be careful–hot foods can "erupt.") Blend until you have a completely smooth sauce.
3. Pour the sauce back into the saucepan, add salsa, and heat until it begins to bubble, stirring occasionally. Allow it to cook and thicken for at least another 2 minutes. Serve hot.