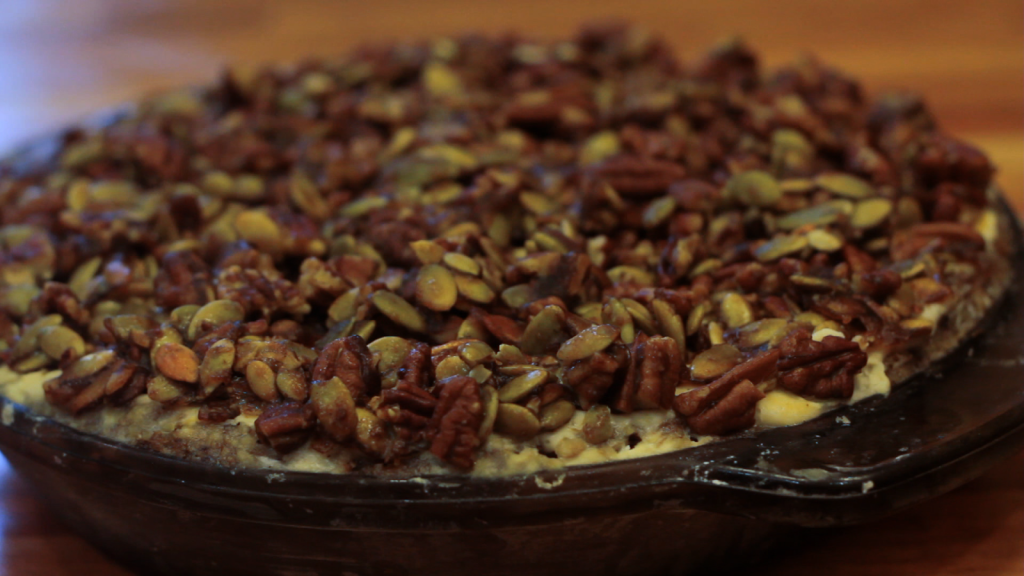 Every year at Thanksgiving I used to face a dilemma: should I make a pecan pie or should I make a pumpkin pie? While we each enjoy both kinds of pie, my husband was somewhat partial to pumpkin pie while I was somewhat partial to pecan pie. So one year I decided I would make both, but do it in one pie.
     Some said it simply couldn't be done. Some said I would be ruining two perfectly good desserts by combining them. And that was before I decided to make this pecan-pumpkin pie combo a cheesecake as well.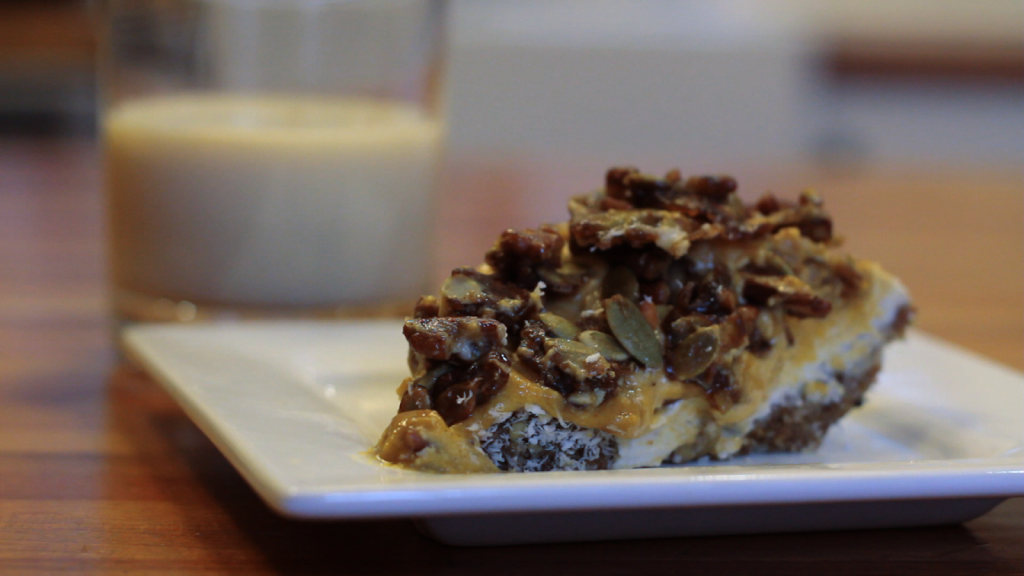 Well, good thing I didn't listen, because this pie is layer upon layer of heaven. Talk about a few of everyone's favorite things… Crunchy pecan praline. Spiced pumpkin puree. Creamy, decadent cheesecake. And a raw and gluten-free crust, to boot.
     Trust me, with this pie there will be endless reasons to give thanks 🙂
Crust Ingredients:
2 cups walnuts
1 cup pitted dates
1/4 cup shredded coconut
Cheesecake Ingredients:
3 cups raw cashews, soaked overnight
1/3 cup lemon juice
1/2 cup agave
1 teaspoon vanilla extract
3/4 cup coconut oil, melted (for a lower fat version, you could try substituting water, though I haven't tried that yet)
Pumpkin Layer Ingredients:
1 cup canned pumpkin puree (NOT pumpkin pie puree)
2 tablespoons arrowroot starch (or cornstarch)
1/2 cup nondairy milk
1/3 cup sugar
1 teaspoon vanilla extract
1/4 teaspoon ground ginger
1/4 teaspoon ground cinnamon
pinch of nutmeg
pinch of allspice
Praline Ingredients:
2 tablespoons coconut oil
1/3 cup chopped pecans
1/4 cup raw pumpkin seeds
2 tablespoons brown sugar
dash of cinnamon
pinch of salt
2 tablespoons maple syrup