My mother is an excellent cook and one of my favorite dishes of all time was her taco salad. It was colorful and fun, and so delicious that I always had countless servings each time we had it for dinner. Her recipe called for ground chicken, so it's been quite a while since I've had it. For a long time, I avoided attempting to make vegan versions of non-vegan dishes I loved because I knew I would always prefer the original. This isn't because the original actually tastes better; it's simply because it's familiar. We humans are designed to be weary and skeptical of difference and change. There is no risk in sticking to the familiar; it's safer and more comfortable.
BUT, if we give change a chance, if we can get out of our comfort zone just a little bit and give ourselves time to readjust, what was once unfamiliar will eventually become familiar. This applies to all aspects of life, not just food, so keep it in mind next time you find yourself making comparisons between the known and the unknown or feeling hesitant about trying something new.
Anyway, since it has been quite a while since I've had my mom's taco salad and I knew I wouldn't have the attachment to its familiarity that I would have had years ago, I decided to give a vegan version of this recipe a go. Instead of ground chicken, I used ground tempeh, and I added corn in lieu of the shredded cheddar cheese she would sometimes add. Everything else was the exact same.
Well, I was totally impressed with how it turned out! I'll just be blunt: it was spectacular. The ground tempeh was absolutely delicious. Which makes sense because, after all, I applied the exact same seasonings as she would with ground chicken. And as I always say, humans don't crave the taste of plain flesh; we crave the seasonings, and those seasonings are plant-based! I really liked the corn, too. I had added it mostly for color but it provided pops of delicious sweetness that went really well with all the lime juice and the salsa. I probably make this once a week because now it is so tasty. And just like before, my stomach seems to hold serving after serving after serving. Thank goodness!
(Serves 4–unless you are an extremely big eater–ahem–in which case it would serve 2-3)
Ingredients:
1 package tempeh, grated
1 large onion, chopped
2 1/2 cups of black beans (1-15 oz can + 1 cup)
1-2 tablespoons taco seasoning (I prefer 2 tablespoons)
2 heads of romaine lettuce, chopped
1/2 cup cilantro
1 cup of halved baby tomatoes
1 cup of sweet corn
1 cup of salsa
Lots and lots of limes!
Instructions:
1. Saute the onions and tempeh with a tablespoon of water until brown, about 10 minutes.
2. Add 1 can of black beans and the taco seasoning, and saute for another 5 minutes. Remove the pan from the heat and let cool until room temperature.
3. Place the romaine, cilantro and baby tomatoes into a large salad bowl. Add 1 cup of black beans, the corn, salsa, and tempeh mixture and toss. Serve with lots of lime wedges to squeeze just before serving.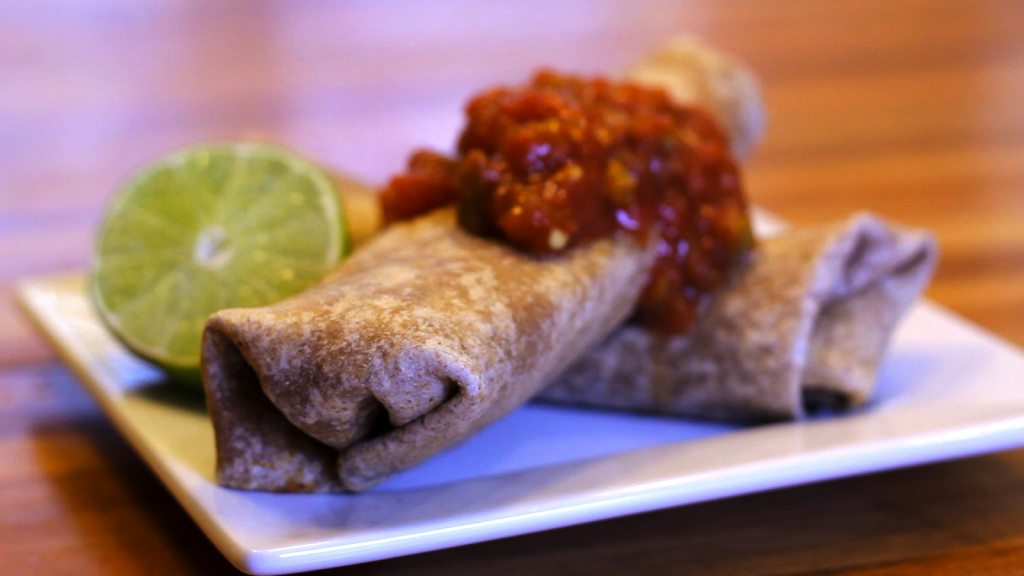 "Things just don't happen by accident."
This is a common saying in our house. It refers to my love of planning. Everyone in my life makes fun of me for this, but you know what? They all benefit from my planning. Planning is how things get done. Planning is how you make sure you have the best experience possible. Planning is how you make sure you get what you want. Like I said, things just don't happen by accident. You need to plan them out!
Now, I know you're thinking, "jeez, Kate. Just relax. Just go with the flow. Just let life happen, man." Well, all I can say to that is "no, thank you." Because you know what? A lot of life IS going to happen. There is going to be a whole lot that will fall out of my control. And to that I completely surrender. I'm not out there trying to schedule the weather. But just because there are things that we can't control doesn't mean we are powerless. I plan because I want to ENJOY life. I don't want to waste my time doing things like getting lost or overpaying, which are exactly the kinds of things that usually happen when we don't plan.
The same goes for food. Everyone complains that eating healthfully is so time-consuming. Nuh-uh! Eating healthfully when you *don't plan* is time-consuming. But when you do plan, it's really not. Sure, cooking at home may not always be as quick getting fast food (though you'll see that this recipe can be), but it's very doable and it's way less time-consuming than getting a chronic disease and spending all your time at the doctor's. If there's one thing that's time-consuming, it's sitting in a doctor's waiting room.
So, if you don't want your time to be consumed either by going to the grocery every night and then making a healthful dinner or by sitting in the doctor's waiting room reading a bunch of People magazines, then there is one solution and one solution only, and that is to plan. Learn to love it, folks. Learn to love it. (Actually, it can be a lot of fun if you get into it. Seriously!)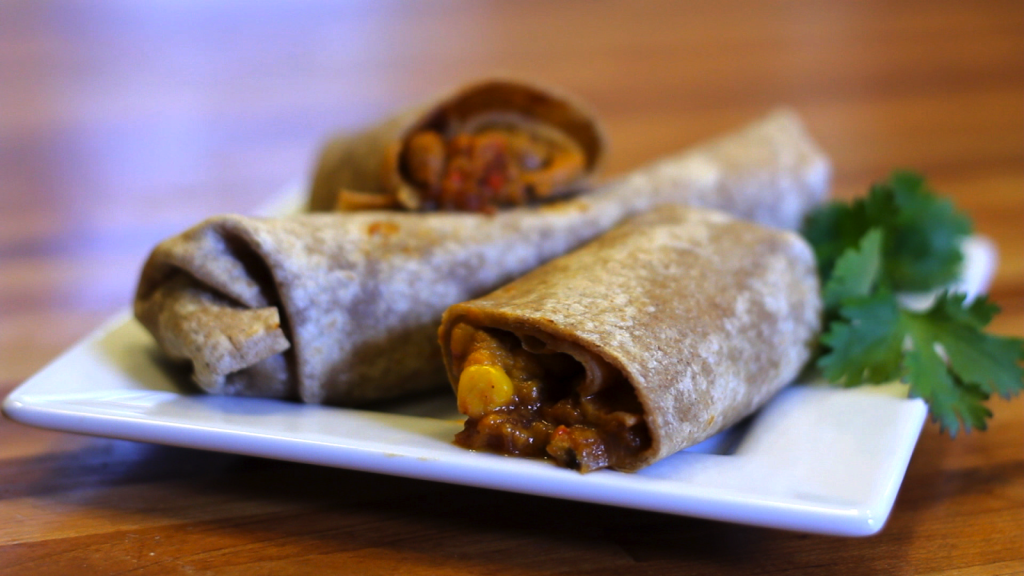 Now, to these mouthwatering burritos. These are absolutely the best burritos I've ever had. Being from Southern California, my standards are high when it comes to burritos, so to say something is "the best" is really saying a lot. There is a little bit of spiciness from the chili powder which is smoothed out by the sweetness of the pureed sweet potato. Honestly, after having these, I doubt I'll ever want a burrito without sweet potato again. My extremely picky husband also agrees that these are "the best." In fact, said extremely picky husband has one of these burritos every single day either at work or when he gets home. Is that because he heats up the wraps, sautes the onion, and then the beans, adds the spices and yada yada yada every single day? No. Is that because I make it for him every single day? No. It's because I plan ahead!
Here's what I do: Approximately every two weeks, I'll make 12 burritos (doubling the recipe below), wrap them in foil, and then stick them in the freezer. It takes me 30 minutes, tops. Mr. Goldhouse will grab one of these on his way out the door or he'll have one as a snack when he gets home before working out. On Monday nights I take a class that doesn't get me home till about 10pm and he's studying for an exam and has no time to cook so he just heats up a burrito or two for dinner. That's a healthful meal, ready in 2-3 minutes. It's that easy!
So, make fun of me all you want now, but please, just take 30 minutes on a Sunday and give this a try. Your life will be SO much easier, and you'll see that eating healthfully doesn't have to be time-consuming at all. If you plan, of course. After all, things just don't happen by accident.
Ingredients:
1/2 onion, chopped
2 cloves garlic, chopped
1 bell pepper, chopped
1-15 oz can of pinto beans (1 1/2 cups)
1-15 oz can of fire-roasted tomatoes
1-15 oz can of corn
1 1/2 tablespoons chili powder
1 teaspoon cumin
2 teaspoons yellow mustard
1 tablespoon reduced-sodium tamari
dash of cayenne
6 burrito-size tortillas (whole wheat, brown rice, or sprouted grain)
1 can pureed sweet potatoes
salsa (optional)
Instructions:
1. Heat the oven to 350 degrees.
2. Add the onions, garlic, and pepper into a medium skillet with a little bit of water and saute until soft, about 5-7 minutes.
3. Stir in the pinto beans. Then add the fire-roasted tomatoes and corn, and cook until heated through.
4. Remove the skillet from the heat and stir in the chili powder, cumin, mustard, tamari and cayenne.
5. Place the tortillas into the oven for 2-3 minutes to soften (or stick them in the microwave).
6. Lay the tortillas out on a flat surface. Divide the sweet potato puree evenly among the tortillas, placing them in the half closest to you. Then place the bean mixture on top of the sweet potatoes, and roll.
7. Bake in the oven for 10-15 minutes. Serve as is or with salsa.