My mother is an excellent cook and one of my favorite dishes of all time was her taco salad. It was colorful and fun, and so delicious that I always had countless servings each time we had it for dinner. Her recipe called for ground chicken, so it's been quite a while since I've had it. For a long time, I avoided attempting to make vegan versions of non-vegan dishes I loved because I knew I would always prefer the original. This isn't because the original actually tastes better; it's simply because it's familiar. We humans are designed to be weary and skeptical of difference and change. There is no risk in sticking to the familiar; it's safer and more comfortable.
BUT, if we give change a chance, if we can get out of our comfort zone just a little bit and give ourselves time to readjust, what was once unfamiliar will eventually become familiar. This applies to all aspects of life, not just food, so keep it in mind next time you find yourself making comparisons between the known and the unknown or feeling hesitant about trying something new.
Anyway, since it has been quite a while since I've had my mom's taco salad and I knew I wouldn't have the attachment to its familiarity that I would have had years ago, I decided to give a vegan version of this recipe a go. Instead of ground chicken, I used ground tempeh, and I added corn in lieu of the shredded cheddar cheese she would sometimes add. Everything else was the exact same.
Well, I was totally impressed with how it turned out! I'll just be blunt: it was spectacular. The ground tempeh was absolutely delicious. Which makes sense because, after all, I applied the exact same seasonings as she would with ground chicken. And as I always say, humans don't crave the taste of plain flesh; we crave the seasonings, and those seasonings are plant-based! I really liked the corn, too. I had added it mostly for color but it provided pops of delicious sweetness that went really well with all the lime juice and the salsa. I probably make this once a week because now it is so tasty. And just like before, my stomach seems to hold serving after serving after serving. Thank goodness!
(Serves 4–unless you are an extremely big eater–ahem–in which case it would serve 2-3)
Ingredients:
1 package tempeh, grated
1 large onion, chopped
2 1/2 cups of black beans (1-15 oz can + 1 cup)
1-2 tablespoons taco seasoning (I prefer 2 tablespoons)
2 heads of romaine lettuce, chopped
1/2 cup cilantro
1 cup of halved baby tomatoes
1 cup of sweet corn
1 cup of salsa
Lots and lots of limes!
Instructions:
1. Saute the onions and tempeh with a tablespoon of water until brown, about 10 minutes.
2. Add 1 can of black beans and the taco seasoning, and saute for another 5 minutes. Remove the pan from the heat and let cool until room temperature.
3. Place the romaine, cilantro and baby tomatoes into a large salad bowl. Add 1 cup of black beans, the corn, salsa, and tempeh mixture and toss. Serve with lots of lime wedges to squeeze just before serving.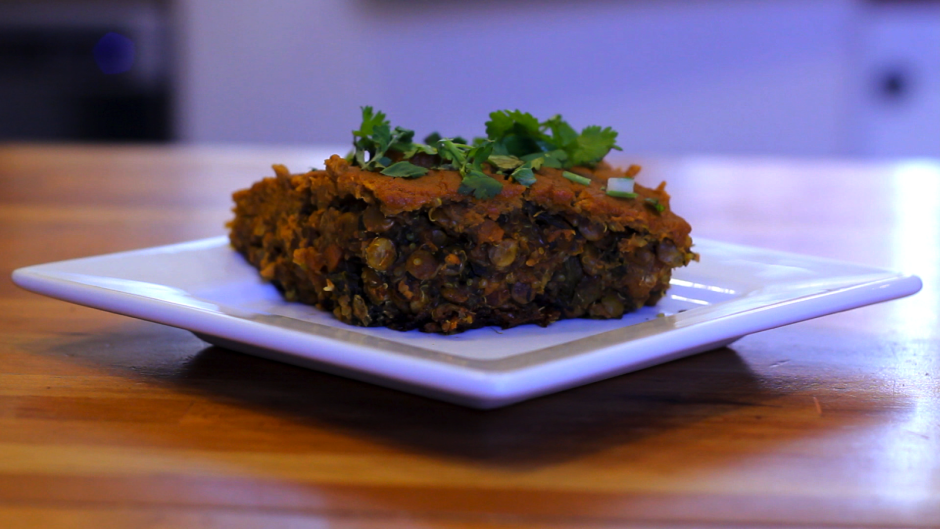 This dish has undergone several revisions and I can now confidently say it is officially FANTASTIC. The ingredients are very simple but they come together to make something really elegant. Mr. Goldhouse, with his ever impressive ability to articulate the heart of the matter in as few words as possible (unlike his wife), describes this casserole as "fancy poor man's food."
I recently served this to some new friends we had over for dinner and received praise every vegan chef loves to hear from a non-vegan: "I had no idea vegan food could taste so good!" Plus, as regular readers already know, I am a huge fan of dishes that lasts for several meals because it makes life so much easier, and this one really lasts well. I suggest making this on a Saturday or Sunday for dinner and then bringing it for lunch or having it for dinner during the week. Whenever I make it, even though I'll eat it for several dinners in a row, I am still always sad when it's finally gone because it is just so delicious. This one is a MUST for your cooking repertoire!
(Serves 8-10)
Ingredients:
1 large onion, diced
2 medium carrots, diced
6 cloves of garlic, minced
2 tablespoons sweet paprika
1 tablespoon cumin
1 teaspoon allspice
1 teaspoon crushed red pepper
1 teaspoon turmeric
1 small can of no-salt added tomato paste
2 cups dry green lentils
1 cup dry quinoa
6 cups of low-sodium vegetable broth or water
2 teaspoons cinnamon
2 cups mashed sweet potatoes (canned is fine)
1-2 lbs of frozen spinach
1 large lemon
1/2 cup chopped cilantro
Instructions:
1. In a large saucepan, saute the onions and carrots with 1-2 tablespoons of water over medium heat until the onions become translucent, approximately 10 minutes.
2. Add the garlic and saute for another 2 minutes.
3. Add the paprika, cumin, allspice, crushed red pepper, turmeric, and tomato paste. Stir until throughly combined.
4. Add the lentils, quinoa, and broth or water. Bring to a boil over high heat, and then lower the heat to medium and cover for 45 minutes.
5. Meanwhile, to prepare the top layer, mix the cinnamon with the sweet potatoes. Preheat the oven to 400 degrees.
6. Once the lentils are fully tender, add the frozen spinach to the saucepan and cook until the spinach is fully heated.
7. Zest and juice the lemon and add to the saucepan.
8. Pour the mixture into a 9×13-inch baking dish. Spread the sweet potatoes evenly over the mixture and bake for 30 minutes. Garnish with cilantro when ready.
There are few things that I love more than beans and greens. At the moment, I can only think of two and they are my husband and my dog. I literally have beans and greens every single day. At least once. This blog probably should have be called "beans and greens." Honestly, my whole life should just be called "beans and greens."
I'm not the only one who thinks beans and greens are two of the most delicious foods on the planet. In fact, most of the world shares my fondness, which is why they appear together in cuisines all across the globe, from Southern BBQ black-eyed peas and collard greens, to Italian cannellini bean stew with kale, to Ethiopian spiced mung beans and cabbage. In addition, beans and greens combine high protein and fiber with disease-fighting antioxidants and phytochemicals making them one mighty nutrition power couple.
So obviously, I just had to include a recipe with beans and greens for this series. My struggle, though, was deciding which one to pick because there are so many that I absolutely love. If I had to pick my favorite bean it would have to be the garbanzo bean (a.k.a. the chickpea) and some of most favorite beans and greens dishes are Indian, so I thought this recipe would fit the bill perfectly. If you love Indian food, as Mr. Goldhouse and I do, this is bound to be a new favorite. But if you are somewhat new to Indian food or sharing it with people who are, this dish is mild enough to be a nice introduction into one of the world's most wonderful cuisines.
Feel free to eat on its own or with a side of brown basmati rice. Enjoy!
(Serves 3-4)
Ingredients:
Curry Mixture:
1/2 tablespoon coriander
1/2 tablespoon garam masala
1/8 teaspoon cayenne
1/2 teaspoon paprika
1/2 teaspoon turmeric
3 cups chopped cremini mushrooms
1 onion, minced
1 tablespoon minced ginger
2 garlic cloves, minced
1/4 cup chopped fresh cilantro
1/2 cup tomato puree
3 cups chickpeas (or two 15 oz cans or one 28 oz cans)
1 10 oz package of frozen spinach, de-thawed (or any other dark leafy green)
1/2 cup nondairy milk, such as soy or almond
1 tablespoon lemon juice
Instructions:
1. Combine spices in the curry mixture and set aside.
2. Saute the onions in a tablespoon or two of water until slightly browned, about 5-10 minutes. Then add the ginger and garlic, and saute for another minute.
3. Add the tomato puree and curry mixture. Stir for another 5-10 minutes.
4. Add the mushrooms and saute until they start to soften, about 3-5 minutes.
5. Add the chickpeas and spinach, and stir until the water has evaporated.
6. Add the nondairy milk and 1/4 – 1/2 cup of water (depending on your desired thickness) and bring to a boil.
7. Add the lemon juice and salt to taste, and turn off the heat. Garnish with cilantro and serve.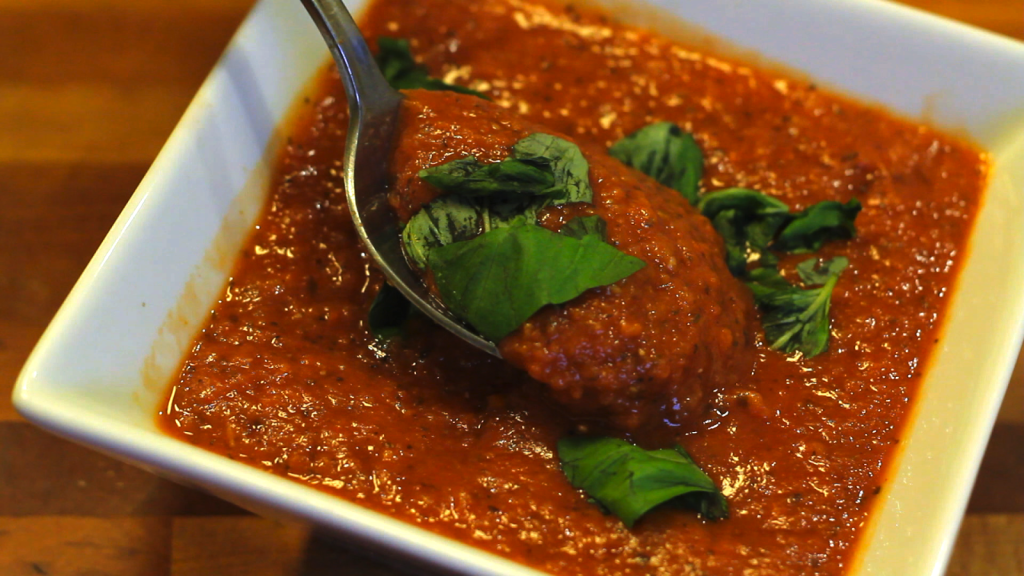 Cream of tomato soup typically calls for a lot of butter and heavy cream. Many people assume that is what is needed to achieve a thick, smooth and creamy consistency. But unless one is looking to add saturated fat, cholesterol, and casein, then the dairy products simply aren't necessary.
To achieve the soup's creamy consistency in my recipe, I use… you guessed it, beans! Navy beans, or any other white or light-colored beans, are great to use in lieu of dairy in creamy soups. And depending on how much creaminess you like, you can always add more or less beans.
Navy beans are rich in protein (1 cup has 15 grams), and a great source of iron, folate, manganese, and calcium. And like all beans, navy beans add fiber to any meal (dairy has no fiber whatsoever), making this soup more filling and satisfying, as well as healthier for your heart. So next time you come across a soup recipe that calls for heavy cream, just remember there are so many reasons to use beans instead.
Here's an interesting tidbit: The first time I tested this soup, I served it as an appetizer and it totally overshadowed the entree. It was also pretty filling for an appetizer so I have since served it as an entree with a big green salad and that hits the spot just right. I have never been a huge tomato soup lover, but I adore this soup. During the filming of this series, we were experiencing record-breaking low temperatures in Boston and the kitchen is the coldest part of our house. I didn't want to be in a huge puffy coat on camera but I was really freezing so as soon as we finished shooting this recipe, I just ate the entire batch by myself. I didn't even put it in a bowl; I just held the bottom of the pot with my oven-mittened hand and ate it straight from the ladle.  (It's really a miracle I didn't spill on my green shirt.) I'm sure the camera man thought I was crazy but I felt so much better. Like I said, this soup really hits the spot.
Serves 2-3
Ingredients:
1-15 oz can navy beans (or 1 1/2 cups)
1-15 oz can crushed tomatoes
1 bay leaf
1 large carrot
1 celery stalk
1 clove garlic
1 teaspoon cumin
1 tsp smoked paprika
2 tablespoons dried basil
1 dash cayenne
1 cup tomato puree
1/2 tablespoon reduced-sodium tamari
1 date
2 tablespoons tomato paste
1/4 cup chopped fresh basil, as garnish (optional)
Instructions:
1. In a soup pot, combine the navy beans, 3 cups of water, crushed tomatoes and bay leaf. Bring to a boil, and cover and simmer.
2. Meanwhile, dice the carrot, celery and garlic. Add the garlic to a saute pan and cook for 2-3 minutes. Then add the celery and carrots, and saute for another 5 minutes.
3. Add the cumin, smoked paprika, basil and cayenne to the saute pan and stir for 2 minutes.
4. Add the tomato puree to the saute pan. Turn up the heat to medium-high, and cook for another 5 minutes.
5. Add the saute mixture to the soup pot and bring to a boil. Reduce to a simmer and cover for 30 minutes or until the vegetables are tender.
6. Remove the bayleaf. In a food processor or blender, add the tamari, date, tomato paste and soup (in batches if necessary). Blend to desired consistency. Serve with chopped fresh basil, if using.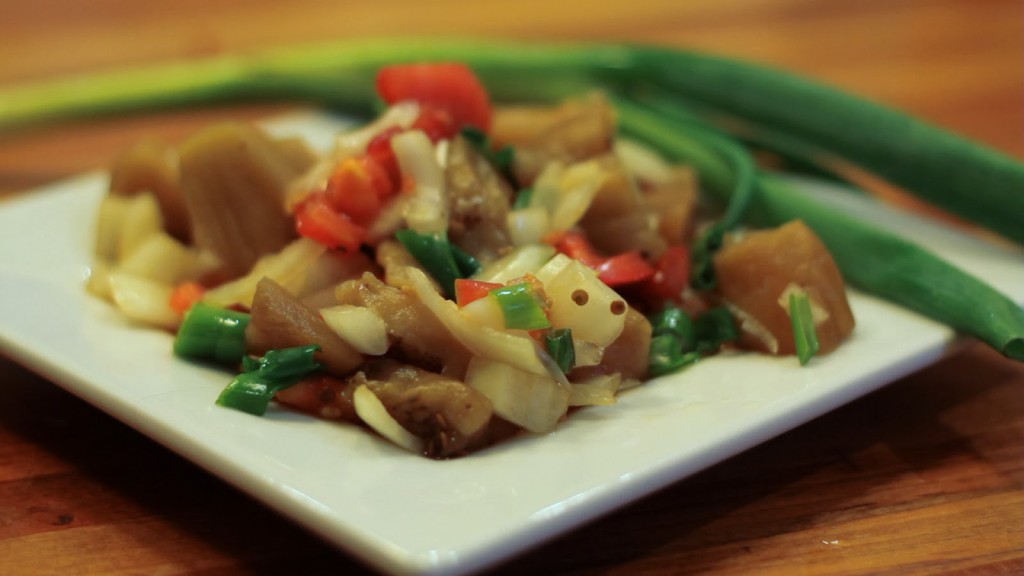 "Ensaladang Talong" is a traditional Filipino eggplant salad that is typically made with shrimp paste and lots of white vinegar. One of the reasons for so much white vinegar is because it helps reduce the fishy taste of the shrimp paste and the fish this salad usually accompanies. That just seems silly to me, especially when you could just not use any shrimp paste and serve it with something other than fish. Personally, I want to taste the ingredients in my dishes. If something doesn't taste good and isn't serving any particular function, then why bother including it?
In the recipe below, I show you how to prepare a fish-safe version of this salad. Since I wasn't using shrimp paste and, therefore, didn't need to worry about cutting any flavors, I used rice vinegar, which is milder and sweeter than white vinegar, and really enhances the tangy combination of the onion, tomatoes and chili.
I like to make this salad and then enjoy it in a variety of ways over the next several days. Some of my favorites ways to eat it are with grilled tofu, tossed with garbanzo beans, or over a bed of brown rice. What might some of your favorite ways to enjoy this salad be?

Ingredients:
1 large eggplant
2 tomatoes, chopped
1 onion, chopped
1/2 teaspoon salt (optional; I prefer to omit)
1 slice red chili
3/4 cup rice wine vinegar
2 tablespoons low-sodium soy sauce or tamari
2-3 scallions
Instructions:
1. Prick the flesh of one large eggplant with a fork and roast at 100 degrees for 45 minutes. Once cool, peel the skin, cut the stem and mash lightly with a fork. 
2. In a bowl, combine two chopped tomatoes, one chopped onion, one half teaspoon salt and one slice of red chili. Add the eggplant and then toss to mix. 
3. To prepare the dressing, mix three quarter cup of wine vinegar, two tablespoons of soy sauce and some freshly ground pepper. Pour the dressing over the vegetables and mix and then garnish with some sliced scallions.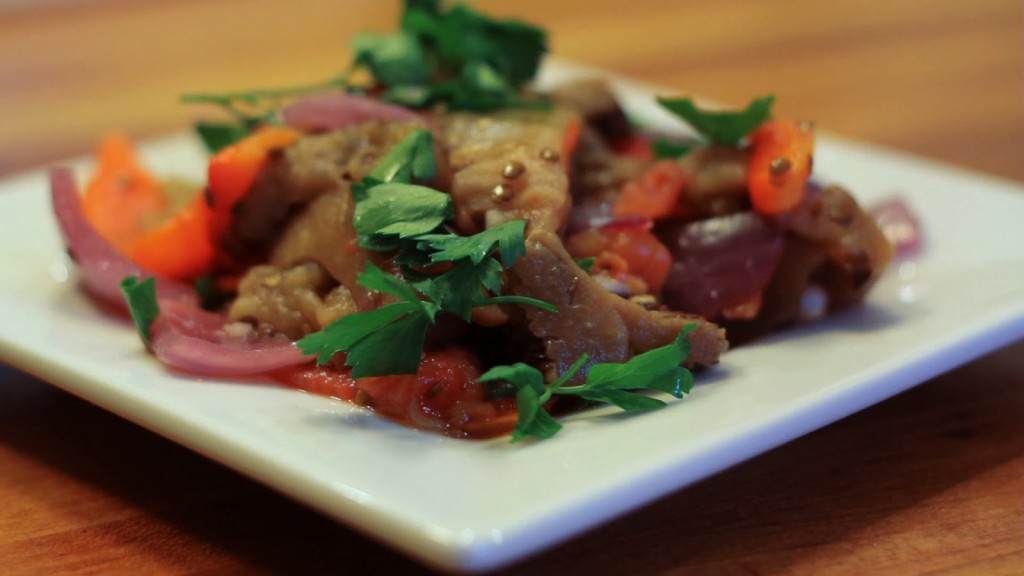 I love Spain. In fact, I love it so much that I've been there four times. During my sophomore year of college I studied abroad for nearly six months in the fantastic city of Barcelona, the capital of the autonomous community of Catalonia. (Spain is broken up into 17 autonomous communities, each of which have their own unique characteristics and some even have their own distinct language.)
     While as a whole, Spanish food is not nearly as revered as French or Italian food, Catalan food is considered some of the best the Mediterranean region has to offer. It's abundant in vegetables, rice dishes, beans, interesting tomato sauces, and nuts. Escalivada is a traditional Catalan dish that consists of roasted vegetables and lots of olive oil. In my recipe, I omit the olive oil and let the richness of the vegetables shine through. When roasted, the red onions and bell peppers become gloriously sweet, the tomatoes become slightly tart, and the eggplant becomes smoky. This is a great dish to have in your fridge because it just goes with everything. It's delicious on it's own as a salad, served along side rice or quinoa, or try blending it just a touch and then spread it on toasted bread.
   Bon profit! (Catalan) Buen provecho! (Spanish)
1 large eggplant
1 medium red onion
2 medium tomatoes
1 red bell pepper
2 cloves garlic, smashed
1 tablespoon Sherry vinegar
1 teaspoon lemon juice
1/4 cup water
1-2 tablespoons parsley
Instructions:
1. Preheat the oven to 400 degrees.
2. Prick the eggplant with a fork and then place it, along with the onion, pepper and tomatoes on a tinfoil-lined baking sheet and put into the oven.
3. Remove the eggplant, tomatoes and peppers after 45 minutes and remove the onion after 60-75 minutes. (Make sure the eggplant is soft. If it still feels tough, keep cooking it and remove when you remove the onion.)
4. To make the dressing, combine the garlic, Sherry vinegar, lemon juice and water. Add seasonings to taste.
5. Once the vegetables are cool enough to handle: Cut the eggplant into half-inch cubes. Peel and seed the peppers and cut them into wide strips. Peel and core the tomatoes and tear each into 4-5 pieces. Peel and remove the top and tail of the onion, then halve it lengthwise and cut it into half-inch strips.
6. Place all the vegetables in a large bowl and toss with the dressing. When ready to serve, top with 1-2 tablespoons of parsley. Enjoy at room temperature or cold.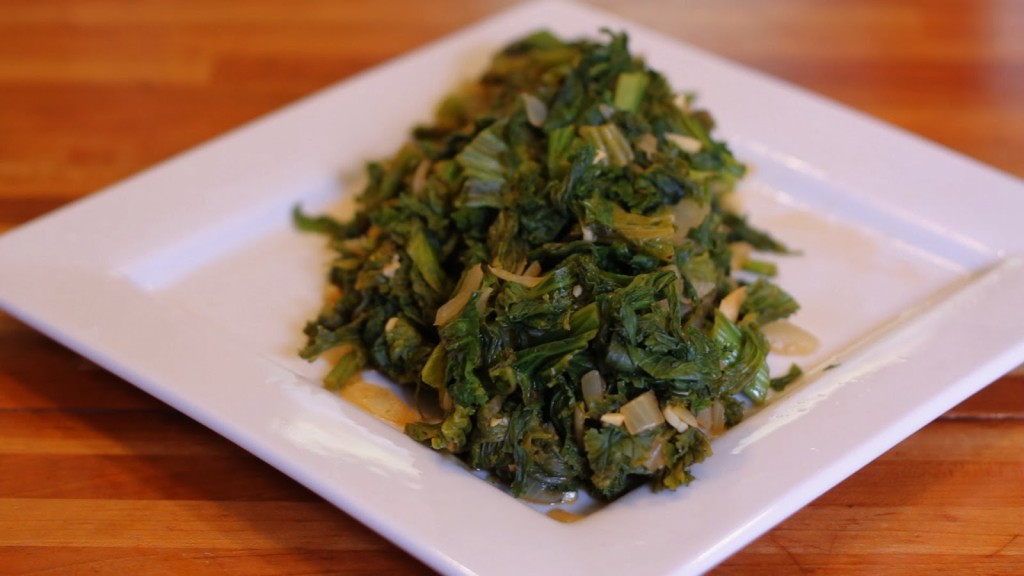 Mustard greens are so incredibly healthful, it was hard to decide which of their many benefits I ought to focus on in this post. Here are just three reasons why you'll want to incorporate more of these luscious leafies into your diet:
Cardiovascular Benefits
Mustard greens support the cardiovascular system in three significant ways. First, they are anti-inflammatory. Inflammation narrows the arteries and increases the risk that they'll become blocked, so these anti-inflammatory properties are obviously a huge benefit. Second, by binding with bile acids in the intestines, mustard greens help lower cholesterol levels. And third, because mustard greens are exceptionally high in the B-vitamin folate, they help prevent homocystein build-up. Homocystein is an amino acid found in the blood that is acquired mostly from eating animal products. High levels are related to the development of heart and blood vessel disease.
Cancer Prevention
Mustard greens are also powerful cancer-fighters because they are LOADED with a broad spectrum of antioxidants. Chronic oxidative stress is a major risk factor for the development of most cancer types and antioxidants lower our risk of oxidative stress on our cells (hence the name: anti- oxidants). For the record, plants have on average 64 times more antioxidant power than animal products. The few antioxidants that do happen to be found in animal products are only there because those animals were fed plants.
Bone Health
And lastly (though I truly could go on endlessly), mustard greens are an excellent source of calcium. While dairy products have long been touted as "good for your bones," the countries with the highest consumption of dairy also have the highest rates of osteoporosis. This is because dairy, like all animal products, is highly acidic. The body needs to keep a very specific acid-alkaline balance in order to function, so whenever animal products are consumed, the body must find an alkaline source so it leaches the calcium from our bones (which is high in alkaline). So, in fact, consuming dairy products are quite harmful to our bones. Mustard greens, on the other hand, along with other greens like kale, collards, bok choy, broccoli, and okra, are not acidic and thus only contribute to the strength of our bones.
So while you enjoy this quick and tasty recipe, you can also feel good knowing that you are eating one of the most healthful foods on the planet!
Ingredients:
1 large bunch mustard greens, chopped
1 small onion, chopped
3-6 cloves garlic (depending on your garlic preferences), chopped
1 teaspoon smoked paprika
1 teaspoon salt (optional)
1 teaspoon black pepper
1/4 cup water
Instructions:
1. In a cast iron pot, saute the onion until soft.
2. Add the garlic, smoked paprika, salt and pepper. Cook for 1 more minute, stirring constantly.
3. Add the mustard greens, and stir until they are coated with the spices and just wilted.
4. Add 1/4 cup of water and let simmer, covered, for about 5 minutes. Remove cover and cook for another 1-2 minutes.
Resources:
http://www.whfoods.com/genpage.php?tname=foodspice&dbid=93
http://www.vrg.org/nutrition/calcium.php
http://www.pcrm.org/health/health-topics/calcium-and-strong-bones
Autumn, Casseroles & Lasagnas, Entrees, Essential Fats, Gluten-Free, Holiday, Oil-Free, Plant Proteins, Vegetables, Videos, Whole Grains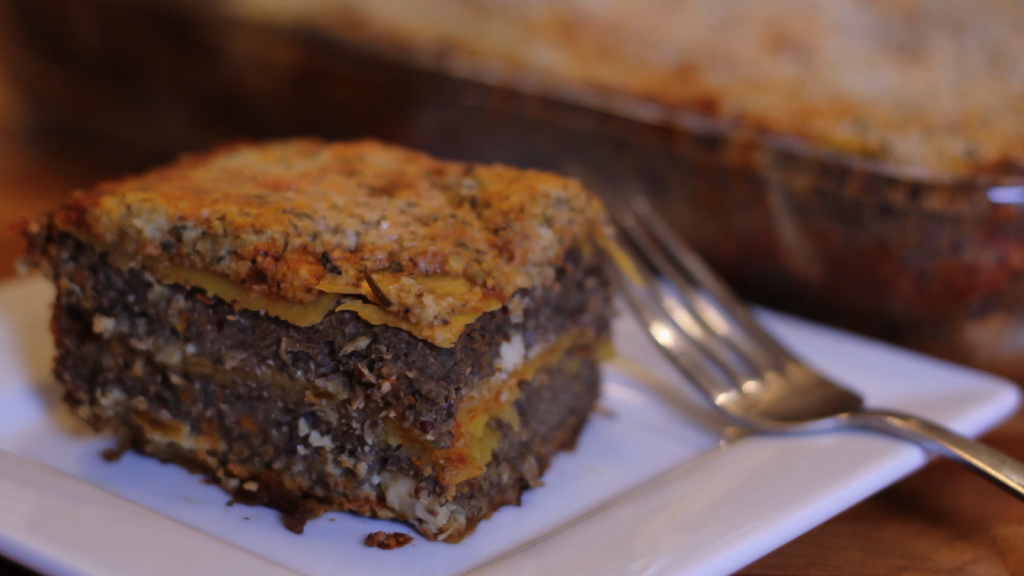 Need a dish that is guaranteed to impress? This is definitely the one.
I love this recipe because it includes everything we love about lasagna–the warmth, the comfort, and the heartiness. But, unlike traditional lasagna, my version is incredibly healthful. Not only does it leave out all animal products, it's also made entirely of whole foods! Rather than using pasta noodles made with processed white flour, I instead use very thin slices of butternut squash. This makes the lasagna more healthful, more flavorful, and more colorful!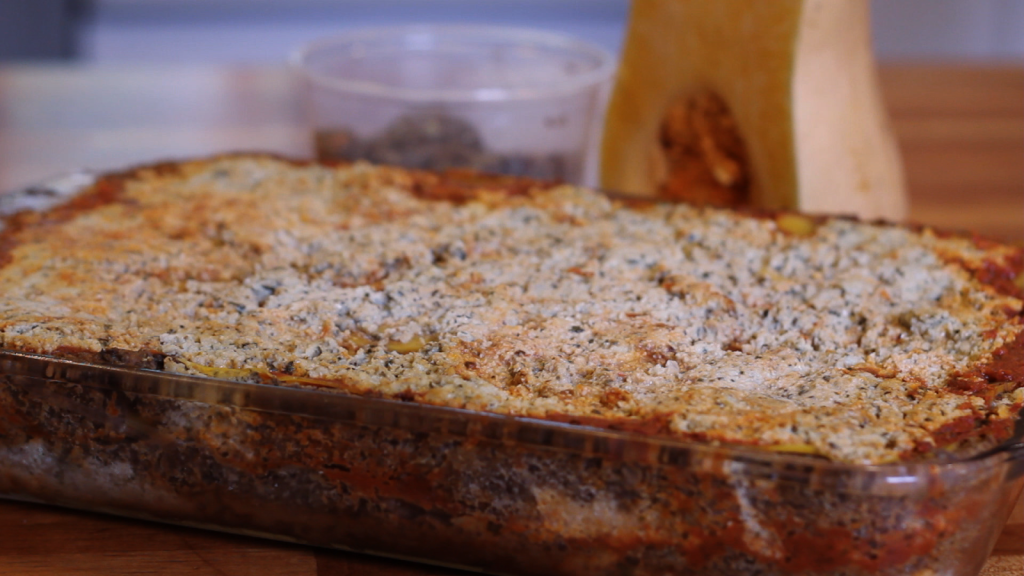 This recipe can be a bit time-consuming, but it doesn't have to be. My tip: Make the sausage and the ricotta ahead of time (they can easily be frozen and de-thawed when needed), then all you'll have to do on the day-of is assemble and bake. If you aren't able to make the sausage and ricotta ahead of time, it's really not that big of a deal, and the extra time it takes is still absolutely worth it because this dish is so spectacular. I would just recommend making doubling the sausage and ricotta to freeze and use for next time. This dish is too good to only make once, and the easier it is to prepare, the more likely you are to make it again and again.
     Plus, as those of you who follow 
Goldhouse Gourmet on Facbeook
 know, I am a HUGE fan of dishes that can last for several meals. They mean you don't have to cook every night and/or can have healthful leftovers to bring with you for lunch. This lasagna definitely fits that bill, and is one of those dishes that only gets better day after day. That is, if you manage to have any left 🙂
1 butternut squash
1 jar marinara sauce (I like Eden Organic's No Salt Added Spagetti Sauce)
Sausage Ingredients:
1 chopped carrot
1 chopped onion
2 cups cooked quinoa
4 cups cooked lentils
2 tablespoons marjoram
1/2 teaspoon red pepper flakes
1 teaspoon paprika
2 teaspoons fennel
2 tablespoons ground flax
2 tablespoons thyme
4 cloves garlic
Ricotta Ingredients:
2 cups raw cashews, soaked in warm water for at least 20 minutes
1/3 cup nondairy milk (I like soy or almond milk)
3 tablespoons lemon juice
3 garlic cloves
1 tablespoon maple syrup
1 tablespoon Italian herb blend
1/3 cup fresh basil
1/4 teaspoon salt
1 teaspoon black pepper
Instructions:
1. To make the sausage: Saute the carrot and onion for 10-15 minutes. Once browned, place vegetables into a food processor along with all the spices and flax. Add cooked quinoa and lentils and pulse just till ingredients begin to stick together (about 10-15 times). Place mixture in a pan and brown.
2. To make the ricotta: Place cashews, nondairy milk, lemon juice, garlic, and maple syrup in a food processor and blend till just smooth (remember, ricotta is somewhat grainy rather than completely whipped). Add in the basil, Italian herb blend, salt and pepper and pulse until blended in.
3. Preheat the oven to 400 degrees.
4. Spread a thin layer of marinara onto the bottom of a glass dish.
5. Layer the squash on top. Avoid overlapping pieces as much as possible.
6. Place a layer of ricotta on top.
7. Spread a layer of sausage crumbles on top.
8. Add another layer of squash and then another layer of marinara sauce.
9. Start again at step 6 and repeat until near the top of the dish. Top with any remaining ricotta.
10. Cover with tin foil and bake for 40 minutes or until a knife can be easily inserted all the way through.
One of the things people worry about when contemplating going vegan is what the holidays will be like, particularly Thanksgiving. I recently received an email from a non-vegan friend who said that she had just learned about what happens to turkeys in slaughterhouses "and now Thanksgiving is ruined!"
Au contraire! The best Thanksgiving I ever had was my first vegan Thanksgiving. I felt that I was actually honoring the true spirit of the holiday, which is about giving thanks and celebrating life. Plus, putting aside the ethics and the health, it was the most delicious Thanksgiving I had ever had. After all, aren't the real stars of the Thanksgiving meal the sides and the desserts?
One option for a vegan Thanksgiving is to have the meal be made up entirely of delicious side dishes. Personally, I think that would be absolutely fantastic, but I also know many of us are used to and enjoy having a main dish as a central focal point. Hence, this gorgeous stuffed acorn squash recipe!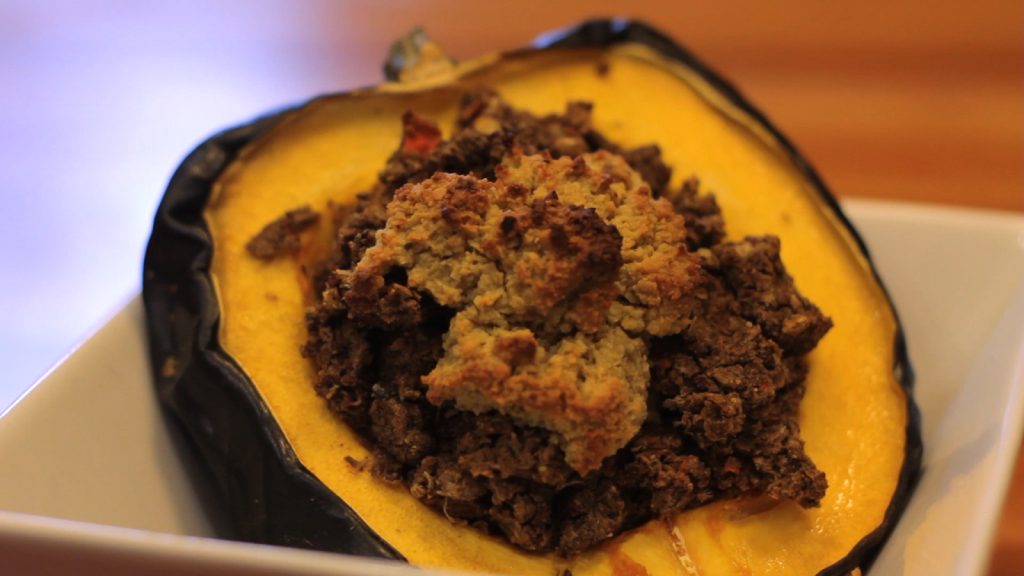 The sausage and ricotta can be prepared well in advance and then frozen. Then, on the big day, all you'll have to do is assemble them into the squash halves and stick them in the oven as described. The combination of flavors and textures in this dish are so aromatic and comforting–the hearty, earthiness of the sausage; the lemony freshness of the ricotta; and the soft, candy-like sweetness of the squash. To my mind, the best way to truly honor this holiday is with food that celebrates life, peace, and joy 🙂
Ingredients:
6 acorn squashes (recipe yields enough to fill at least 12 squash halves; any remaining can be frozen)
Sausage Ingredients:
1 carrot, chopped
1 onion, chopped
2 cups cooked quinoa
4 cups cooked lentils
2 tablespoons marjoram
1/2 teaspoon red pepper flakes
1 teaspoon paprika
2 teaspoons fennel
2 tablespoons ground flaxseeds
2 tablespoons thyme
4 cloves garlic
Ricotta Ingredients:
2 cups raw cashews, soaked in warm water for at least 20 minutes
1/3 cup nondairy milk (i.e. almond, soy, etc.)
3 tablespoons lemon juice
1 tablespoon Italian herb blend
3 garlic cloves
1 tablespoon maple syrup
1/3 cup fresh basil
1/4 teaspoon salt
Instructions:
1. Slice the acorn squashes in half and scoop out the seeds. Place in the oven for 30 minutes at 400 degrees.
2. To make the sausage: Saute the carrot and onion for 10-15 minutes. Once browned, place vegetables into a food processor along with all the spices and flax. Add cooked quinoa and lentils and pulse just till ingredients begin to stick together (about 10-15 times). Place mixture in a pan and brown.
3. To make the ricotta: Place cashews, nondairy milk, lemon juice, garlic, and maple syrup in a food processor and blend till just smooth (remember, ricotta is somewhat grainy rather than completely whipped). Add in the basil, Italian herb blend, salt and pepper and pulse until blended in.
4. To compose the dish, place a layer of ricotta at the bottom of each squash bowl. Then add some sausage crumbles. Top with more ricotta. Any remaining sausage and ricotta can be frozen and used at another time (perhaps for
butternut squash lasagna
).
5. Put squashes back in the oven and bake for another 30 minutes, or until they are soft and caramelized.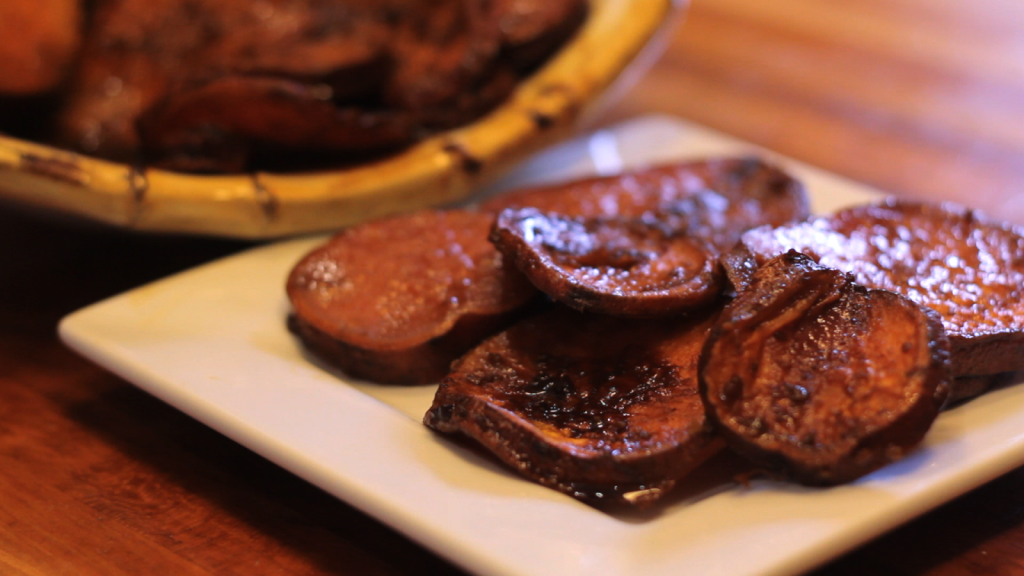 Ladies and gentlemen, I present to you what may be the greatest side dish of all time!
The first time I made this dish I ended up completely ignoring the main course and instead consumed all the yams.
By myself.
It was glorious.
I will most definitely be making this dish for Thanksgiving this year and then again when we go down South to visit my in-laws over Christmas.
Also, just to be totally honest here, when I say "yams" I actually mean "sweet potatoes." Don't be mad though, because when you say "yams" what you probably mean is "sweet potatoes" too. What we commonly refer to as a "yam" in the U.S. is actually a "sweet potato." Even in grocery stores, what are labeled "yams" are usually "sweet potatoes." The USDA has tried to crack down on this crazy scandal by requiring that sweet potatoes labeled "yams" include "sweet potatoes" in the label as well. That's why you'll often see "sweet potato yams." Both yams and sweet potatoes are nutritionally similar but sweet potatoes have a nutritional edge because they have much higher levels of vitamin A, vitamin B6, and vitamin C.
While I usually don't cook with oil because it is a processed food without any fiber, sweet potatoes (aforementioned "yams") are one of those foods that benefits from being eaten with a small amount of fat. (Keyword here is "small," folks! I'm talking 1-2 tablespoons for an entire recipe.) The fat allows us to better absorb the beta carotene, an antioxidant that is critical for eye health, bone health, and reproductive health.
     Sweet potatoes really are a nutritional superstar, and they taste like a dessert. If that's not a win-win, then I don't know what is!
2 1/2 lbs garnet yams or sweet potatoes, peeled and cut into 1/2-inch rounds
2 tablespoons toasted sesame oil
1 (2-inch) cinnamon stick
2 tablespoons molasses
1 teaspoon tamari (I prefer reduced-sodium)
2 tablespoons pure maple syrup
1 tablespoon white miso paste
2 tablespoons lemon juice
6 tablespoons water
Instructions:
1. Preheat the oven to 425 degrees.
2. In a large bowl, toss the sweet potatoes with 1 tablespoon of the sesame oil.
3. Spread the sweet potatoes onto a parchment-lined baking sheet in a single layer and roast for 25 minutes. Flip, and roast for another 25 minutes.
4. Place the cinnamon stick at the bottom of a 2-quart baking dish, and add the sweet potatoes in layers. Set aside.
5. In a medium-size bowl, whisk together the remaining six ingredients plus the remaining tablespoon of sesame oil and pour over the sweet potatoes.
6. Bake, uncovered, for 30 minutes.