My mother is an excellent cook and one of my favorite dishes of all time was her taco salad. It was colorful and fun, and so delicious that I always had countless servings each time we had it for dinner. Her recipe called for ground chicken, so it's been quite a while since I've had it. For a long time, I avoided attempting to make vegan versions of non-vegan dishes I loved because I knew I would always prefer the original. This isn't because the original actually tastes better; it's simply because it's familiar. We humans are designed to be weary and skeptical of difference and change. There is no risk in sticking to the familiar; it's safer and more comfortable.
BUT, if we give change a chance, if we can get out of our comfort zone just a little bit and give ourselves time to readjust, what was once unfamiliar will eventually become familiar. This applies to all aspects of life, not just food, so keep it in mind next time you find yourself making comparisons between the known and the unknown or feeling hesitant about trying something new.
Anyway, since it has been quite a while since I've had my mom's taco salad and I knew I wouldn't have the attachment to its familiarity that I would have had years ago, I decided to give a vegan version of this recipe a go. Instead of ground chicken, I used ground tempeh, and I added corn in lieu of the shredded cheddar cheese she would sometimes add. Everything else was the exact same.
Well, I was totally impressed with how it turned out! I'll just be blunt: it was spectacular. The ground tempeh was absolutely delicious. Which makes sense because, after all, I applied the exact same seasonings as she would with ground chicken. And as I always say, humans don't crave the taste of plain flesh; we crave the seasonings, and those seasonings are plant-based! I really liked the corn, too. I had added it mostly for color but it provided pops of delicious sweetness that went really well with all the lime juice and the salsa. I probably make this once a week because now it is so tasty. And just like before, my stomach seems to hold serving after serving after serving. Thank goodness!
(Serves 4–unless you are an extremely big eater–ahem–in which case it would serve 2-3)
Ingredients:
1 package tempeh, grated
1 large onion, chopped
2 1/2 cups of black beans (1-15 oz can + 1 cup)
1-2 tablespoons taco seasoning (I prefer 2 tablespoons)
2 heads of romaine lettuce, chopped
1/2 cup cilantro
1 cup of halved baby tomatoes
1 cup of sweet corn
1 cup of salsa
Lots and lots of limes!
Instructions:
1. Saute the onions and tempeh with a tablespoon of water until brown, about 10 minutes.
2. Add 1 can of black beans and the taco seasoning, and saute for another 5 minutes. Remove the pan from the heat and let cool until room temperature.
3. Place the romaine, cilantro and baby tomatoes into a large salad bowl. Add 1 cup of black beans, the corn, salsa, and tempeh mixture and toss. Serve with lots of lime wedges to squeeze just before serving.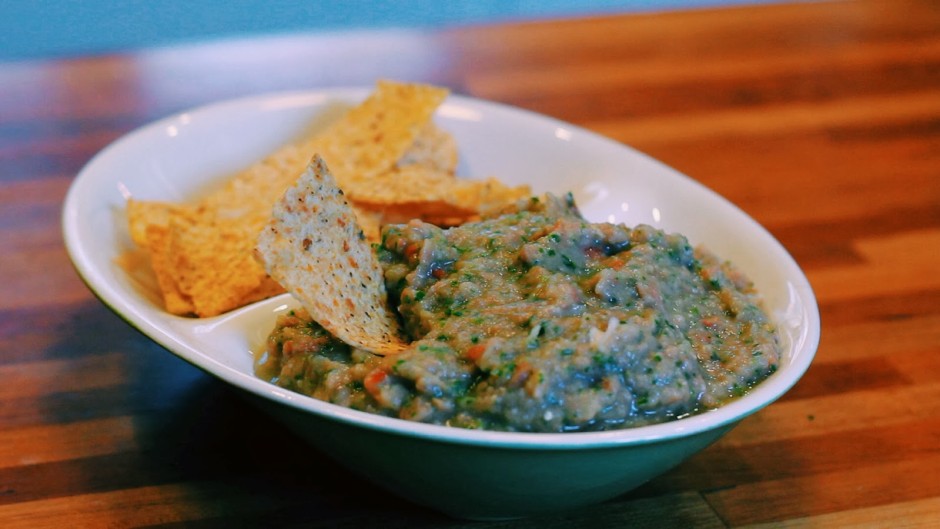 eHow has titled this video "Low-Fat Pinto Bean Dip." It is, indeed, low in fat as there is no sour cream, cheese, or oil. But what I think is so great about this dip is that, unlike your typical pinto bean dip which is usually thick and heavy and leaves a lump in your stomach, this is just so light and fresh. The ingredients are incredibly simple, but they come together to create something really flavorful. Hence my preferred title: "Pinto Bean Salsa Dip."
Do you know why pinto beans are called "pinto" beans? In Spanish, "pinto" means "painted," which is a reference to the beautiful reddish-brown markings that appear on the beans when they are dried. So "pinto beans" literally translates to "painted beans." It's probably the artist in me, but I get a HUGE kick out of that. Painted beans!
Anyway, if you are looking for a quick and savory snack or appetizer, this one is a definite winner. My only regret when making it was that I didn't double the recipe because it went fast!
Ingredients:
1/2 cup chopped onion
2 tablespoons chopped fresh cilantro
1/2 cup chopped plum tomato
1/2 jalapeno, seeds removed
1-15 oz can of pinto beans
2 teaspoons lime juice
Instructions:
1. Add all the ingredients to a food processor and pulse until desired consistency.
There are few things that I love more than beans and greens. At the moment, I can only think of two and they are my husband and my dog. I literally have beans and greens every single day. At least once. This blog probably should have be called "beans and greens." Honestly, my whole life should just be called "beans and greens."
I'm not the only one who thinks beans and greens are two of the most delicious foods on the planet. In fact, most of the world shares my fondness, which is why they appear together in cuisines all across the globe, from Southern BBQ black-eyed peas and collard greens, to Italian cannellini bean stew with kale, to Ethiopian spiced mung beans and cabbage. In addition, beans and greens combine high protein and fiber with disease-fighting antioxidants and phytochemicals making them one mighty nutrition power couple.
So obviously, I just had to include a recipe with beans and greens for this series. My struggle, though, was deciding which one to pick because there are so many that I absolutely love. If I had to pick my favorite bean it would have to be the garbanzo bean (a.k.a. the chickpea) and some of most favorite beans and greens dishes are Indian, so I thought this recipe would fit the bill perfectly. If you love Indian food, as Mr. Goldhouse and I do, this is bound to be a new favorite. But if you are somewhat new to Indian food or sharing it with people who are, this dish is mild enough to be a nice introduction into one of the world's most wonderful cuisines.
Feel free to eat on its own or with a side of brown basmati rice. Enjoy!
(Serves 3-4)
Ingredients:
Curry Mixture:
1/2 tablespoon coriander
1/2 tablespoon garam masala
1/8 teaspoon cayenne
1/2 teaspoon paprika
1/2 teaspoon turmeric
3 cups chopped cremini mushrooms
1 onion, minced
1 tablespoon minced ginger
2 garlic cloves, minced
1/4 cup chopped fresh cilantro
1/2 cup tomato puree
3 cups chickpeas (or two 15 oz cans or one 28 oz cans)
1 10 oz package of frozen spinach, de-thawed (or any other dark leafy green)
1/2 cup nondairy milk, such as soy or almond
1 tablespoon lemon juice
Instructions:
1. Combine spices in the curry mixture and set aside.
2. Saute the onions in a tablespoon or two of water until slightly browned, about 5-10 minutes. Then add the ginger and garlic, and saute for another minute.
3. Add the tomato puree and curry mixture. Stir for another 5-10 minutes.
4. Add the mushrooms and saute until they start to soften, about 3-5 minutes.
5. Add the chickpeas and spinach, and stir until the water has evaporated.
6. Add the nondairy milk and 1/4 – 1/2 cup of water (depending on your desired thickness) and bring to a boil.
7. Add the lemon juice and salt to taste, and turn off the heat. Garnish with cilantro and serve.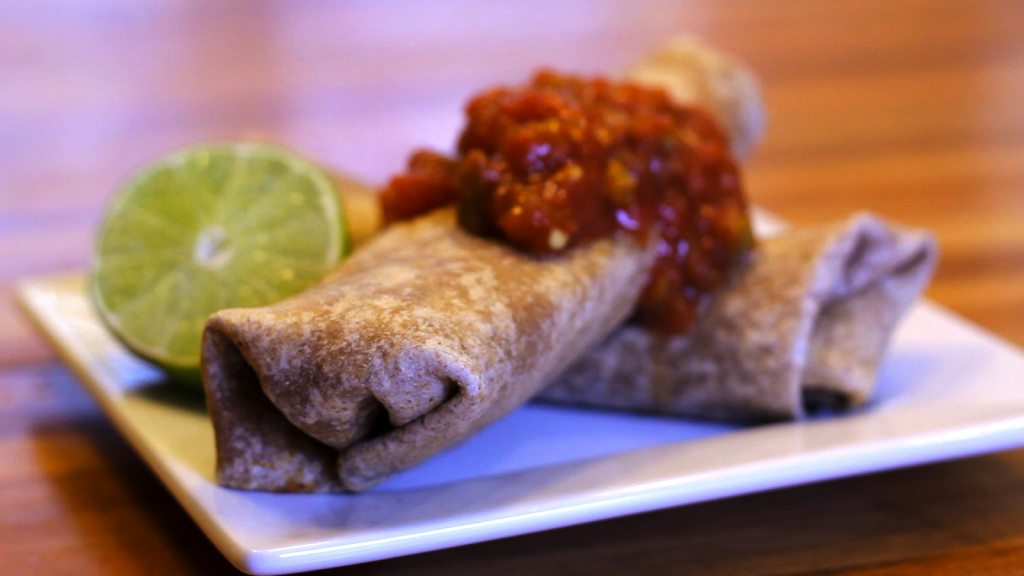 "Things just don't happen by accident."
This is a common saying in our house. It refers to my love of planning. Everyone in my life makes fun of me for this, but you know what? They all benefit from my planning. Planning is how things get done. Planning is how you make sure you have the best experience possible. Planning is how you make sure you get what you want. Like I said, things just don't happen by accident. You need to plan them out!
Now, I know you're thinking, "jeez, Kate. Just relax. Just go with the flow. Just let life happen, man." Well, all I can say to that is "no, thank you." Because you know what? A lot of life IS going to happen. There is going to be a whole lot that will fall out of my control. And to that I completely surrender. I'm not out there trying to schedule the weather. But just because there are things that we can't control doesn't mean we are powerless. I plan because I want to ENJOY life. I don't want to waste my time doing things like getting lost or overpaying, which are exactly the kinds of things that usually happen when we don't plan.
The same goes for food. Everyone complains that eating healthfully is so time-consuming. Nuh-uh! Eating healthfully when you *don't plan* is time-consuming. But when you do plan, it's really not. Sure, cooking at home may not always be as quick getting fast food (though you'll see that this recipe can be), but it's very doable and it's way less time-consuming than getting a chronic disease and spending all your time at the doctor's. If there's one thing that's time-consuming, it's sitting in a doctor's waiting room.
So, if you don't want your time to be consumed either by going to the grocery every night and then making a healthful dinner or by sitting in the doctor's waiting room reading a bunch of People magazines, then there is one solution and one solution only, and that is to plan. Learn to love it, folks. Learn to love it. (Actually, it can be a lot of fun if you get into it. Seriously!)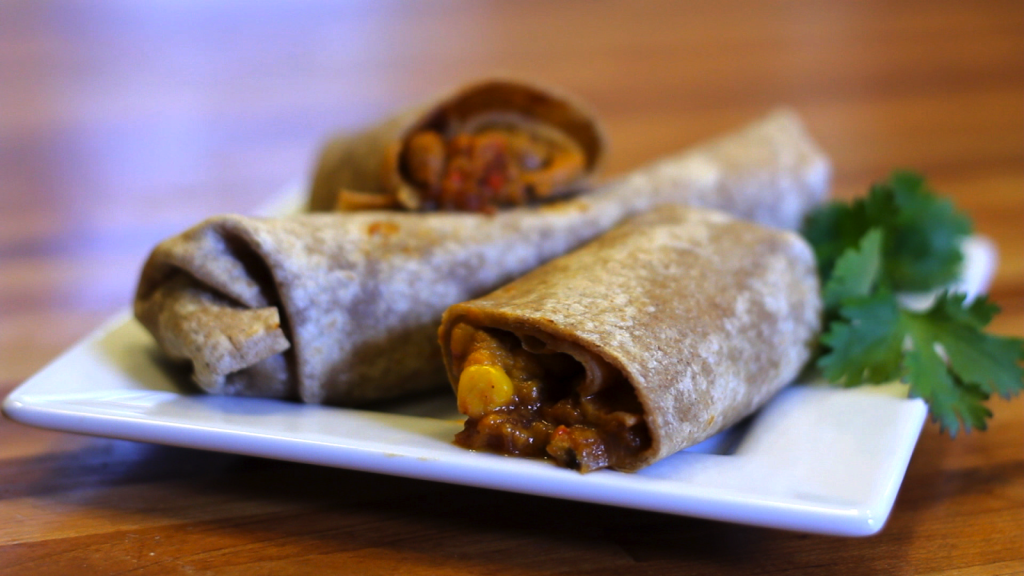 Now, to these mouthwatering burritos. These are absolutely the best burritos I've ever had. Being from Southern California, my standards are high when it comes to burritos, so to say something is "the best" is really saying a lot. There is a little bit of spiciness from the chili powder which is smoothed out by the sweetness of the pureed sweet potato. Honestly, after having these, I doubt I'll ever want a burrito without sweet potato again. My extremely picky husband also agrees that these are "the best." In fact, said extremely picky husband has one of these burritos every single day either at work or when he gets home. Is that because he heats up the wraps, sautes the onion, and then the beans, adds the spices and yada yada yada every single day? No. Is that because I make it for him every single day? No. It's because I plan ahead!
Here's what I do: Approximately every two weeks, I'll make 12 burritos (doubling the recipe below), wrap them in foil, and then stick them in the freezer. It takes me 30 minutes, tops. Mr. Goldhouse will grab one of these on his way out the door or he'll have one as a snack when he gets home before working out. On Monday nights I take a class that doesn't get me home till about 10pm and he's studying for an exam and has no time to cook so he just heats up a burrito or two for dinner. That's a healthful meal, ready in 2-3 minutes. It's that easy!
So, make fun of me all you want now, but please, just take 30 minutes on a Sunday and give this a try. Your life will be SO much easier, and you'll see that eating healthfully doesn't have to be time-consuming at all. If you plan, of course. After all, things just don't happen by accident.
Ingredients:
1/2 onion, chopped
2 cloves garlic, chopped
1 bell pepper, chopped
1-15 oz can of pinto beans (1 1/2 cups)
1-15 oz can of fire-roasted tomatoes
1-15 oz can of corn
1 1/2 tablespoons chili powder
1 teaspoon cumin
2 teaspoons yellow mustard
1 tablespoon reduced-sodium tamari
dash of cayenne
6 burrito-size tortillas (whole wheat, brown rice, or sprouted grain)
1 can pureed sweet potatoes
salsa (optional)
Instructions:
1. Heat the oven to 350 degrees.
2. Add the onions, garlic, and pepper into a medium skillet with a little bit of water and saute until soft, about 5-7 minutes.
3. Stir in the pinto beans. Then add the fire-roasted tomatoes and corn, and cook until heated through.
4. Remove the skillet from the heat and stir in the chili powder, cumin, mustard, tamari and cayenne.
5. Place the tortillas into the oven for 2-3 minutes to soften (or stick them in the microwave).
6. Lay the tortillas out on a flat surface. Divide the sweet potato puree evenly among the tortillas, placing them in the half closest to you. Then place the bean mixture on top of the sweet potatoes, and roll.
7. Bake in the oven for 10-15 minutes. Serve as is or with salsa.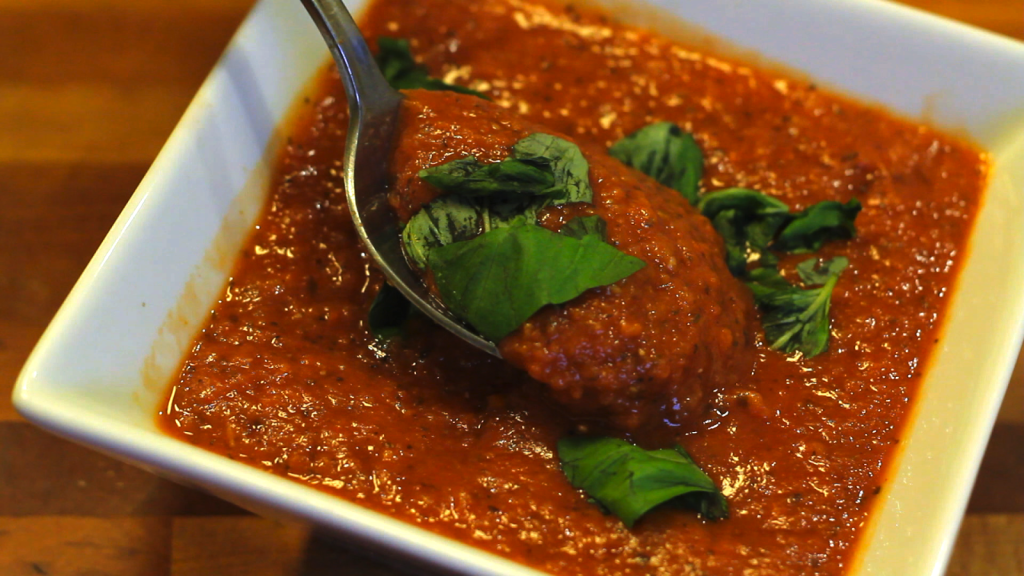 Cream of tomato soup typically calls for a lot of butter and heavy cream. Many people assume that is what is needed to achieve a thick, smooth and creamy consistency. But unless one is looking to add saturated fat, cholesterol, and casein, then the dairy products simply aren't necessary.
To achieve the soup's creamy consistency in my recipe, I use… you guessed it, beans! Navy beans, or any other white or light-colored beans, are great to use in lieu of dairy in creamy soups. And depending on how much creaminess you like, you can always add more or less beans.
Navy beans are rich in protein (1 cup has 15 grams), and a great source of iron, folate, manganese, and calcium. And like all beans, navy beans add fiber to any meal (dairy has no fiber whatsoever), making this soup more filling and satisfying, as well as healthier for your heart. So next time you come across a soup recipe that calls for heavy cream, just remember there are so many reasons to use beans instead.
Here's an interesting tidbit: The first time I tested this soup, I served it as an appetizer and it totally overshadowed the entree. It was also pretty filling for an appetizer so I have since served it as an entree with a big green salad and that hits the spot just right. I have never been a huge tomato soup lover, but I adore this soup. During the filming of this series, we were experiencing record-breaking low temperatures in Boston and the kitchen is the coldest part of our house. I didn't want to be in a huge puffy coat on camera but I was really freezing so as soon as we finished shooting this recipe, I just ate the entire batch by myself. I didn't even put it in a bowl; I just held the bottom of the pot with my oven-mittened hand and ate it straight from the ladle.  (It's really a miracle I didn't spill on my green shirt.) I'm sure the camera man thought I was crazy but I felt so much better. Like I said, this soup really hits the spot.
Serves 2-3
Ingredients:
1-15 oz can navy beans (or 1 1/2 cups)
1-15 oz can crushed tomatoes
1 bay leaf
1 large carrot
1 celery stalk
1 clove garlic
1 teaspoon cumin
1 tsp smoked paprika
2 tablespoons dried basil
1 dash cayenne
1 cup tomato puree
1/2 tablespoon reduced-sodium tamari
1 date
2 tablespoons tomato paste
1/4 cup chopped fresh basil, as garnish (optional)
Instructions:
1. In a soup pot, combine the navy beans, 3 cups of water, crushed tomatoes and bay leaf. Bring to a boil, and cover and simmer.
2. Meanwhile, dice the carrot, celery and garlic. Add the garlic to a saute pan and cook for 2-3 minutes. Then add the celery and carrots, and saute for another 5 minutes.
3. Add the cumin, smoked paprika, basil and cayenne to the saute pan and stir for 2 minutes.
4. Add the tomato puree to the saute pan. Turn up the heat to medium-high, and cook for another 5 minutes.
5. Add the saute mixture to the soup pot and bring to a boil. Reduce to a simmer and cover for 30 minutes or until the vegetables are tender.
6. Remove the bayleaf. In a food processor or blender, add the tamari, date, tomato paste and soup (in batches if necessary). Blend to desired consistency. Serve with chopped fresh basil, if using.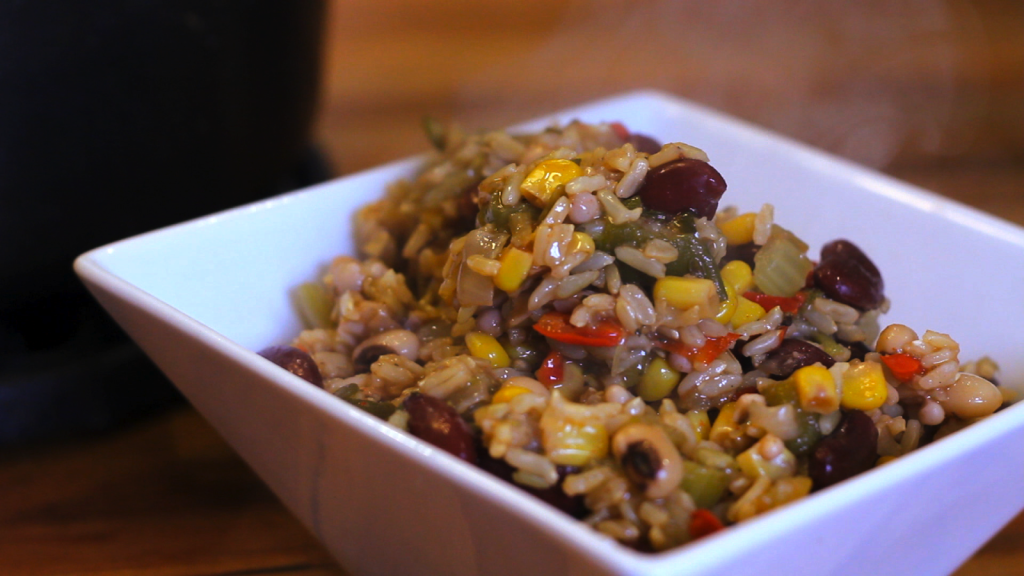 What's a series on beans without a chili recipe? Rather than sharing a more Western-style chili with black beans, tomatoes, and Mexican seasonings, I thought it would be a fun opportunity to move East and make something with more of a Southern vibe. The result is a mix between a chili and a jambalaya with ingredients found in traditional dishes all across the South, from Cajun spices to black-eyed peas to okra. I am proud of all the recipes in this series but I am especially proud of this one. I even had the chutzpa to make it for my Southern in-laws, knowing full well I was encroaching on dangerous territory (not being a Southerner myself and all), and it received excellent reviews.
This has truly become a favorite meal in our house. It's also great leftover. I like making a big batch for dinner on Sunday night and then packing the rest for Mr. Goldhouse's lunch for the next several days. And, of course, it's incredibly healthful, as kidney beans and black-eyed are both excellent sources of protein, fiber, calcium and iron.
Ingredients:
Cajun spice blend:
2 teaspoons smoked paprika
2 teaspoons thyme
1 teaspoon oregano
1 teaspoon marjoram
1/2 teaspoon cayenne pepper
1/2 teaspoon onion powder
1/2 teaspoon garlic powder
1/4 teaspoon allspice
1/4 teaspoon ground cloves
…..
1 onion, chopped
2 stalks celery, chopped
4 cloves garlic, minced
1 bell pepper, diced
1 1/2 cups brown rice
1 package frozen okra, de-thawed
2-15 oz can kidney beans (3 cups)
1-15 oz can black-eyed peas (1 1/2 cups)
1-15 oz can corn (1 1/2 cups)
1/2 teaspoon liquid smoke
3 cups vegetable broth
Instructions:
1. Prepare the Cajun spice blend and set aside. (Tip: I like to double this and store what I don't use for this recipe in a plastic baggy. That way it's all set to go next time I need it.)
2. In a soup pot, saute the onion, celery, garlic and pepper in a tablespoon of water for about 10 minutes, or until the onions are translucent.
3. Add the remaining ingredients and 1 1/2 tablespoons of the Cajun spice blend.
4. Turn the heat to medium-high and bring to a boil, and then reduce to low and cover. Cook for about 40-45 minutes, or until the rice is done. Stir every 20 minutes and add more liquid if necessary.
5. Once the rice is ready, season with salt, pepper, and more Cajun seasoning as needed.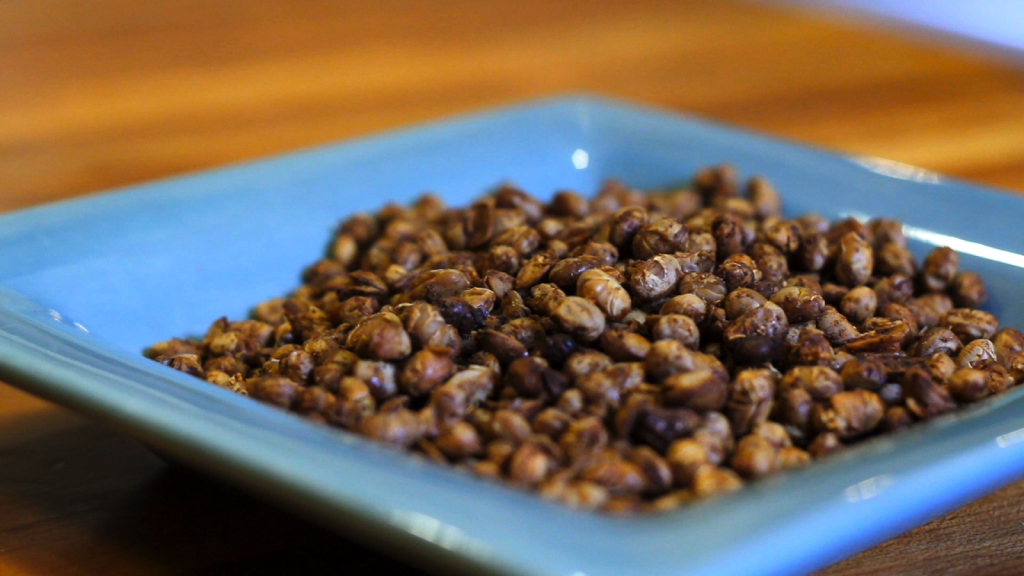 We all know that beans make a great dip or a great chili, but did you know they also make a great snack?
You really could us apply this recipe to any type of bean but I think soybeans are just the perfect size and, frankly, this recipe really  hits the spot so I'm not too inclined to mess with it.
Many roasted bean recipes will say olive oil is necessary to get the spices to stick onto the beans, but I find they spices stick just fine if the beans are wet, so I just add the spices right after I rinse the beans. This recipe calls for 1/2 teaspoon salt, which, if you are snacking with others, is pretty moderate but you are certainly free to use less or omit it entirely if you are on a low-sodium diet.
Soybeans are incredibly nutritious. In fact, according to a recent research analysis, if Americans replaced their meat and dairy intake with soy, they would increase they intake of calcium, magnesium, iron, vitamin K, folate and fiber. But despite the plethora of scientific evidence about the health benefits of soy, there is still a lot of misinformation that continues to get passed around. I have heard some pretty extreme claims, everything from "I avoid soy because it causes dementia" to "Soy causes breast cancer" to "I don't let my son have soy because it will turn him into a girl." We've all heard claims like this, or perhaps we've even been the one doing the speaking. When we absorb or pass on these claims we are buying into and perpetuating a multimillion dollar anti-soy campaign sponsored by the meat and dairy industry.
So here are some important myths about soy I wanted to debunk right off the bat to put your mind at ease.
Myth: "Soy causes dementia."
Reality: Soy does not cause dementia; in fact, it improves cognition. This myth seemed to originate from a study in which researchers found that tofu had harmful cognitive effects on people in Indonesia. However, the same was not true for tempeh, which is a more concentrated source of soy, so clearly soy itself was not the problem but something that was being added to the tofu. Well, guess what they use a preservative for tofu in Indonesia? Formaldedye! Yep, the same flammable human carcinogen that's used to make home industrial products. So next time someone tells you soy causes dementia, set the record straight and say that formaldedye might but soy certainly does not.
More info:
http://nutritionfacts.org/video/does-tofu-cause-dementia/
Myth: "Soy causes breast cancer."
Reality: This myth stems from the belief that soy has estrogen, and higher levels of estrogen have been linked to breast cancer. But soy doesn't even have estrogen! It has something called phytoestrogen, but this is not estrogen. Estrogen is a sex hormone that is found in all animals (including humans). Soy, in fact, is actually protective against breast cancer. It has been shown to reduce both the recurrence of and the risk of death from breast cancer.
More info:
http://nutritionfacts.org/video/brca-breast-cancer-genes-and-soy/
http://nutritionfacts.org/video/breast-cancer-survival-and-soy/
http://nutritionfacts.org/video/soy-breast-cancer-3/
Myth: "Soy gives men "man boobs."
Reality: Again, this probably stems from the confusion between estrogen and phytoestrogen. Soy has been shown to have no effect on a man's testosterone levels or circulating estrogen levels whatsoever. Also, if you are concerned about getting too much estrogen from soy but are still drinking breast milk from a 1,500 lb cow, I think you are barking up the wrong tree. Cows, like humans, only produce breast milk after giving birth. The demand for dairy means that a cow is essentially always pregnant so that she will always be producing milk. So those who consume dairy are consuming the milk from pregnant cows, which have a whole lot of estrogen. In fact, people who consume meat and dairy have significantly higher levels of estrogen in their blood. Definitely check out this study which examined what happens to men's hormone levels within in just one hour of consuming dairy (hint: their estrogen levels went up and their testosterone levels went down!).
More info:
http://www.fertstert.org/article/S0015-0282(10)00368-7
Myth: "All soy is GMO so it's poison." (I've actually heard this one verbatim.)
Reality: First of all, the largest consumer of GMO soy is farmed animals. In her article, "A Vegan Doctor Addresses Soy Myths and Misinformation", Holly Wilson, M.D. explains that this GMO soy "does not just magically evaporate in the slaughterhouse or milk processing plant. It ends up on your plate." Secondly, numerous brands of non-GMO tofu, tempeh, soy milk, and soy beans can be found in your grocery store labeled clearly on the package. These include Silk, Morinaga, and many others (see a comprehensive list here).
For more information debunking the misinformation about soy, read "Being Vegan and Eating Soy: Myths, Truths, and Everything In Between" by Christa Novelli M.P.H.
So please, let yourself relax about soy and enjoy this delicious and healthful snack without a worry in the world. These crunchy and crispy little beans are so much fun to pop into your mouth. Be warned: they are quite addictive!
Ingredients:
2 cans of soybeans, drained and rinsed.
1 teaspoon chili powder
1 teaspoon cumin
1/2 teaspoon salt (optional)
1/2 teaspoon allspice
1/4 teaspoon cayenne
Instructions:
1. Preheat the oven to 400 degrees. In a medium bowl, toss the spices with the soybeans until evenly coated.
2. Spread the soybeans in one layer onto a tinfoil-lined baking sheet.
3. Roast the soybeans for 45-60 minutes, stirring every 20 minutes so they cook evenly.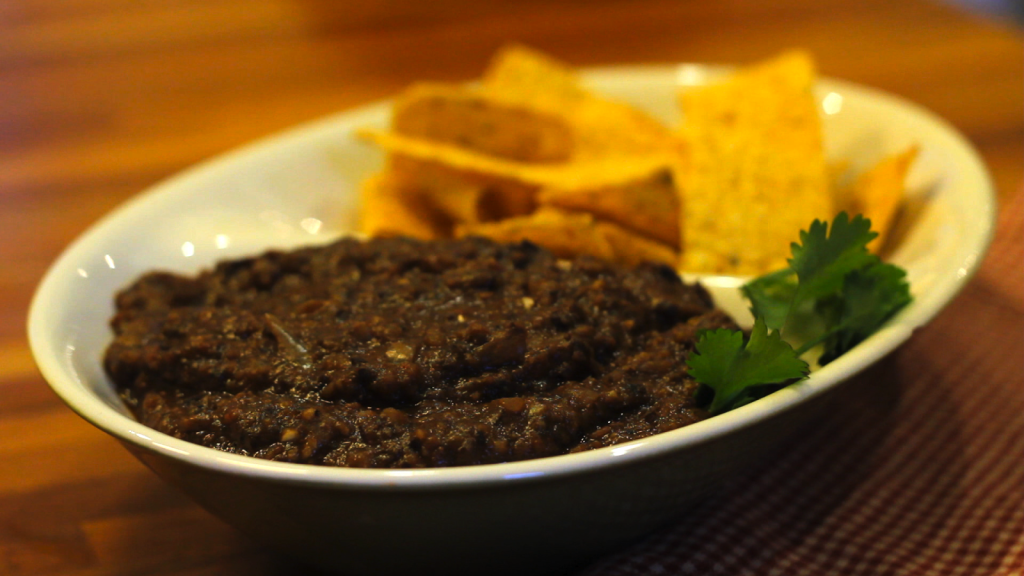 This isn't just a healthy version of a your average black bean dip, which usually includes sour cream and dairy cheese. No, this dip is it's very own thing. The flavors are much richer and more complex, and it's not the least bit heavy. It has many ingredients found in traditional Mexican cuisine–such as black beans, chili powder, fire roasted tomatoes, and green chilies. But I have also added another ingredient that is bound to make your eyes go wide with delight when you first dig in. I'll give you two hints:
     1) It's a very traditional ingredient in Mexican cooking (or from what is now Mexico), originating even before the Mayans.
     2) It's from another bean.
     Any guesses??
     Cocoa powder! Yes, as in chocolate.
     Cocoa powder comes from beans from the cacao tree. (Actually, the word cocoa is believed to have its origins in a spelling mistake of the word 
cacao
, so technically we should all be saying "cacao powder.") Cacao was first used for human enjoyment in Mexico, by a people called the Olmec, who lived prior to the Mayans' rise to power. So it is very traditional, indeed. (I find the history of food absolutely fascinating! If you want to learn more about the history of chocolate, see 
here
.)
     I don't use much cacao–just a teaspoon–but it adds so much to this dish. Whenever I test recipes, I usually make sure I leave some for Mr. Goldhouse to try so I can get his feedback. However, the first time I made this I didn't leave him a drop because it was just so good. I totally devoured it. So several days later I made it again, but the exact same thing happened! I had no idea that I could be so overcome by desire for a dip, but I seem to find this one completely irresistible. Fortunately, it's just pure, plant-based, whole food goodness without any added oil or salt, so aside from depriving Mr. Goldhouse, there was no reason to feel bad.
     In fact, not only was there no reason to feel bad, there was every reason to feel good! Black beans are loaded with nutritional benefits. Here are just a few:
– Black beans are an excellent source of protein (just 1 cup has 15 grams), and it is far more healthful to get protein from plants rather than from animals. (See more info
here
.)
– Black beans are rich in soluble fiber which helps lower blood cholesterol levels. Lowered risk of coronary heart disease and heart attack risk have both been association with higher intake of soluble fiber, particularly beans.
-Black beans' contain both protein and fiber, a combination which helps keep blood sugar levels steady.
-Black beans contain an enormous amount of antioxidants and phytochemicals, so it should be no surprise that several studies have linked black bean consumption to a lowered risk of many cancers.
-Black beans are an excellent source of folate which is crucial for pregnant women as folate deficiency can cause defects in a fetus's brain and spinal cord.
-Black beans are a great source of iron.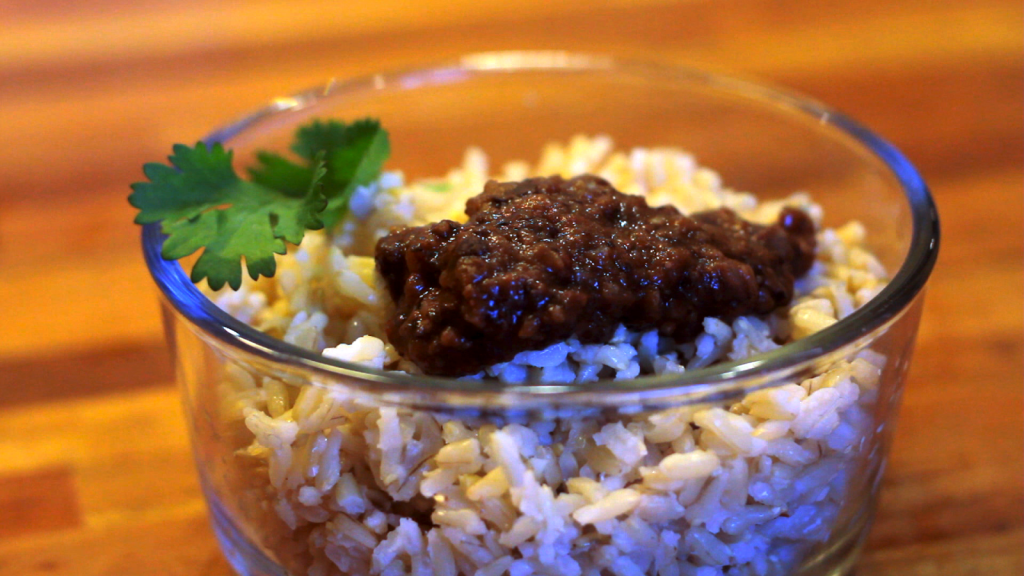 This dip is great with carrots or tortilla chips, but it also makes for a delicious sauce on brown rice, quinoa, or even pasta.
Ingredients:
1 medium onion
2 cloves garlic
2 cups fire-roasted tomatoes
2 tablespoons green chilies
1 tablespoon chili powder
1 teaspoon unsweetened cocoa powder
1/2 teaspoon oregano
1/2 teaspoon cumin
1 1/2 cups cooked black beans
1 tablespoon chopped cilantro (optional)
Instructions:
1. Slice the onions and garlic. Saute them in a tablespoon of water until soft, about 5-7 minutes.
2. Add the tomatoes and seasonings. Stir for 5 minutes.
3. Reduce the heat to simmer and add the black beans. Cook for 10 minutes.
4. Transfer the sauce to a food processor or blender and puree to desired consistency (I like it to be a just little bit chunky).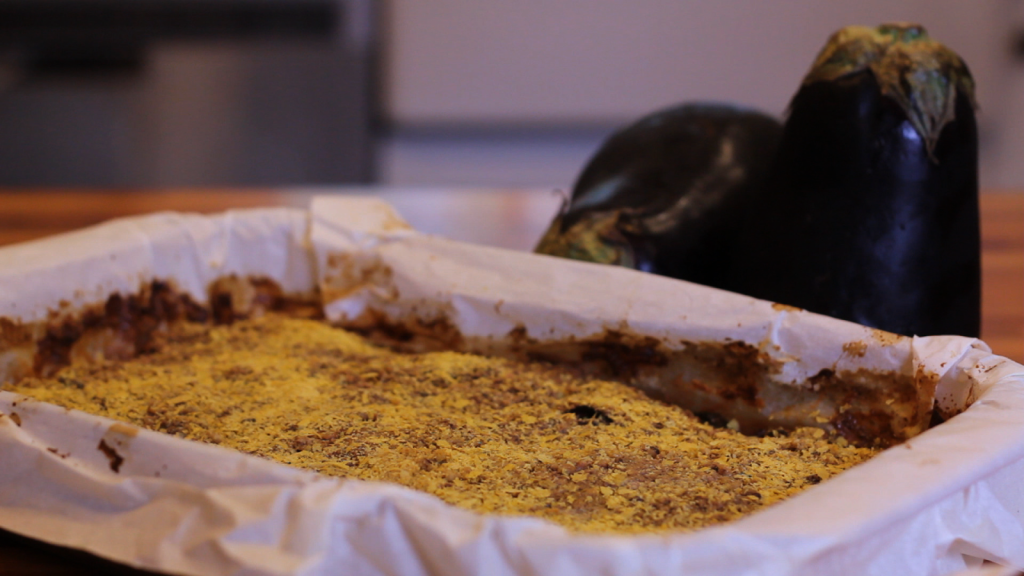 Just like my
butternut squash lasagna
, this recipe has thinly sliced vegetables functioning as lasagna noodles. This dish uses eggplant, which has always been one of my most favorite vegetables. And it also has kale and mushrooms, two of my other favorites! If you are new to a plant-based diet or will be dining with those who are, mushrooms are great because they provide the chewy smokiness that many people say they crave about meat.
     I am also very excited to share the recipes for b
é
chemel sauce and parmesan cheese. Both are absolutely fantastic! The recipe for the parmesan is incredibly quick and easy. It's sort of ridiculous how easy it is– it literally takes 5 seconds to prepare. The b
é
chemel takes a bit more time but it can easily be made ahead of time and frozen. I have a feeling you'll want to use both of these recipes in other dishes as well, so be sure to bookmark them.
     Enjoy!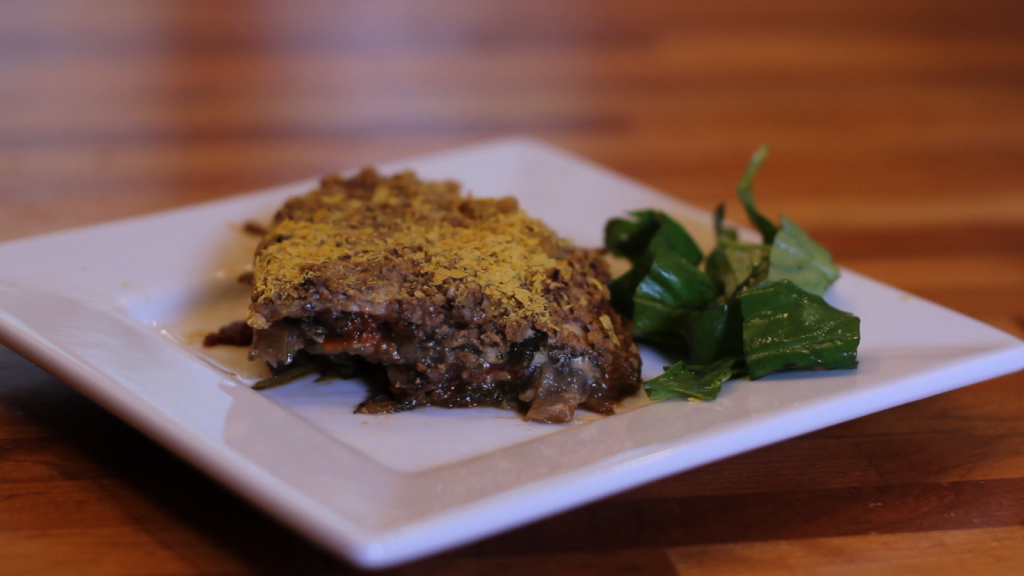 1 batch of your favorite marinara sauce (store-bought is fine)

2 medium eggplants, sliced length-wise

1 bunch kale leaves (or spinach)

4 cups sliced mushrooms

1 large onion, sliced

B

é

chemel Ingredients:

3 cups nondairy milk

1/2 cup raw cashews, soaked in warm water for at least 20 minutes

3 heaping tablespoons arrowroot flour or cornstarch

2 tablespoons lemon juice

1/4 cup nutritional yeast

1 teaspoon salt

Parmesan Cheese Ingredients:

1/2 cup raw walnuts

1/4 cup nutritional yeast

1/2 teaspoon salt
Instructions:
1. To make the b
é
chemel sauce: Blend all the ingredients together. Add the mixture to a medium saucepan over high heat and whisk for 5-10 minutes until thickened.
2. To make the parmesan cheese: Add the ingredients to a blender and pulse until the walnuts are just ground. Be careful not to over blend into a paste.
3. Saute the onions and mushrooms for 5-7 minutes. Set aside.
4. In a large glass baking dished lined with parchment paper, layer in the following order: marinara sauce, eggplant, b
é
chemel sauce, kale, mushrooms. Repeat until you run out.
5. Sprinkle half of the parmesan cheese on top. Bake for 1 hour covered with foil and 1 hour without foil. (I like my eggplant really soft, so feel free to lessen the time if you prefer your eggplant more chewy.)
6. Sprinkle with the remaining parmesan cheese and serve.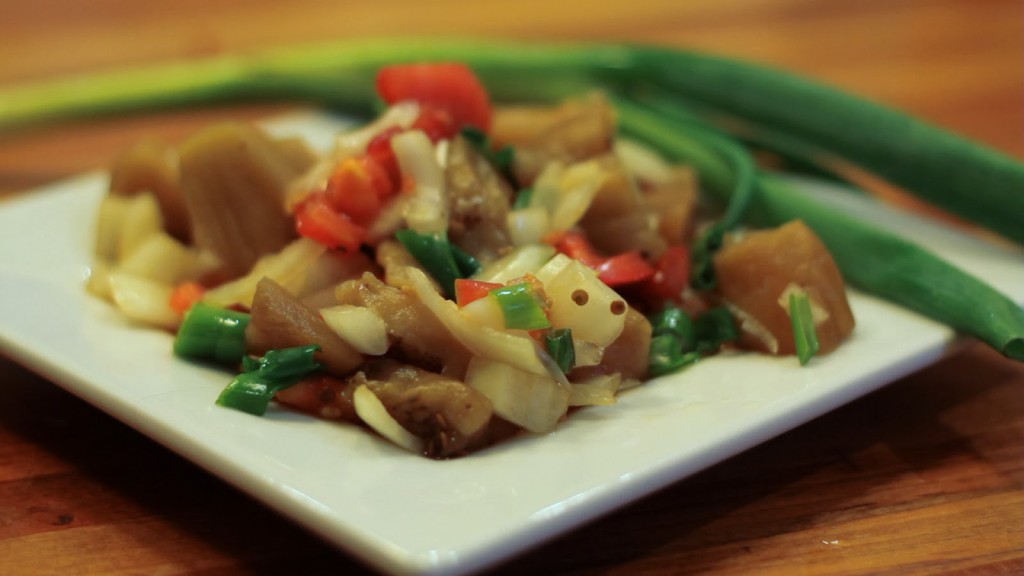 "Ensaladang Talong" is a traditional Filipino eggplant salad that is typically made with shrimp paste and lots of white vinegar. One of the reasons for so much white vinegar is because it helps reduce the fishy taste of the shrimp paste and the fish this salad usually accompanies. That just seems silly to me, especially when you could just not use any shrimp paste and serve it with something other than fish. Personally, I want to taste the ingredients in my dishes. If something doesn't taste good and isn't serving any particular function, then why bother including it?
In the recipe below, I show you how to prepare a fish-safe version of this salad. Since I wasn't using shrimp paste and, therefore, didn't need to worry about cutting any flavors, I used rice vinegar, which is milder and sweeter than white vinegar, and really enhances the tangy combination of the onion, tomatoes and chili.
I like to make this salad and then enjoy it in a variety of ways over the next several days. Some of my favorites ways to eat it are with grilled tofu, tossed with garbanzo beans, or over a bed of brown rice. What might some of your favorite ways to enjoy this salad be?

Ingredients:
1 large eggplant
2 tomatoes, chopped
1 onion, chopped
1/2 teaspoon salt (optional; I prefer to omit)
1 slice red chili
3/4 cup rice wine vinegar
2 tablespoons low-sodium soy sauce or tamari
2-3 scallions
Instructions:
1. Prick the flesh of one large eggplant with a fork and roast at 100 degrees for 45 minutes. Once cool, peel the skin, cut the stem and mash lightly with a fork. 
2. In a bowl, combine two chopped tomatoes, one chopped onion, one half teaspoon salt and one slice of red chili. Add the eggplant and then toss to mix. 
3. To prepare the dressing, mix three quarter cup of wine vinegar, two tablespoons of soy sauce and some freshly ground pepper. Pour the dressing over the vegetables and mix and then garnish with some sliced scallions.