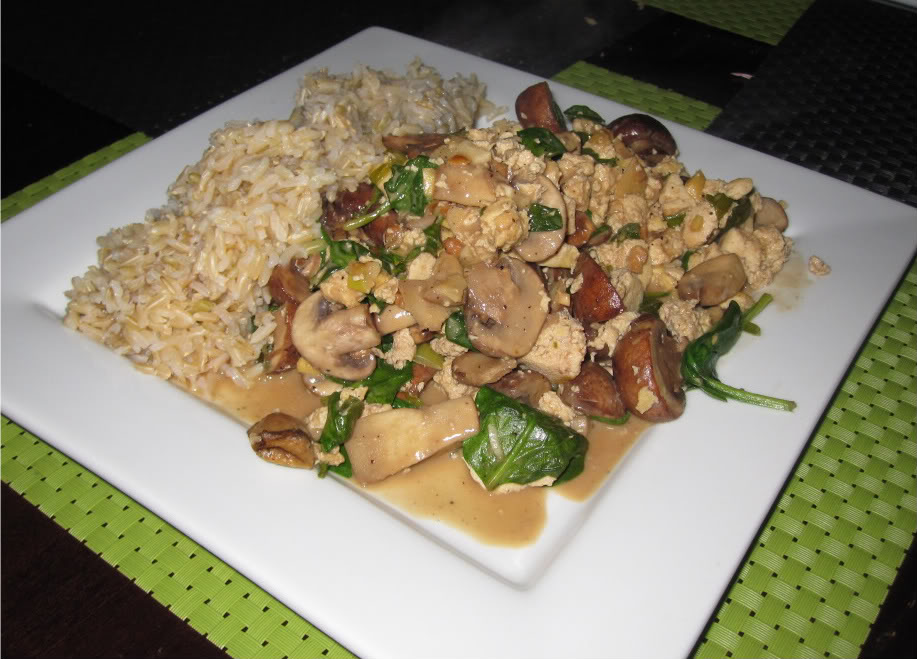 This is one of my favorite dishes to serve to non-vegan guests, especially those who might assume vegan eating is bland or not hearty enough. The ginger peanut sauce is so flavorful and the combination of mushrooms and tofu make for a great chewy mouthfeel that meat-eaters are used to. Plus, this dish is loaded with tons of protein, not to mention fiber, iron, vitamin D, folate, zinc, calcium, vitamin C, and countless more antioxidants. If you are looking to inspire non-vegans, this dish will impress, without fail. 
4 cups cooked brown rice
Note: People REALLY love this sauce, so don't be afraid to double it. It won't go to waste!
5 tablespoons water
4 tablespoons chunky natural peanut butter
2 tablespoon rice vinegar or white vinegar
1 tablespoon reduced-sodium soy sauce or tamari
1-2 tablespoons agave
1-2 tablespoons minced ginger (more if you like ginger)
2 cloves garlic, minced
Tofu + Vegetables:
14 oz. extra-firm tofu
2 teaspoons vegetable broth or water
4 cups baby spinach, (6 ounces)
1 1/2 cups sliced mushrooms, (4 ounces)
4 scallions, sliced
Instructions:
1. To prepare sauce: Whisk water, peanut butter, rice vinegar (or white vinegar), soy sauce, agave, ginger and garlic in a small bowl.
2. To prepare tofu: Drain and rinse tofu; pat dry. Slice the block crosswise into eight 1/2-inch-thick slabs. Coarsely crumble each slice into smaller, uneven pieces.
3. Heat vegetable broth or water in a large nonstick skillet over high heat. Add tofu and cook in a single layer, without stirring, until the pieces begin to turn golden brown on the bottom, about 5 minutes. Then gently stir and continue cooking, stirring occasionally, until all sides are golden brown, 5 to 7 minutes more.
4. Add spinach, mushrooms, scallions and the peanut sauce and cook, stirring, until the vegetables are just cooked, 1 to 2 minutes more.
5. Serve over brown rice. Enjoy!