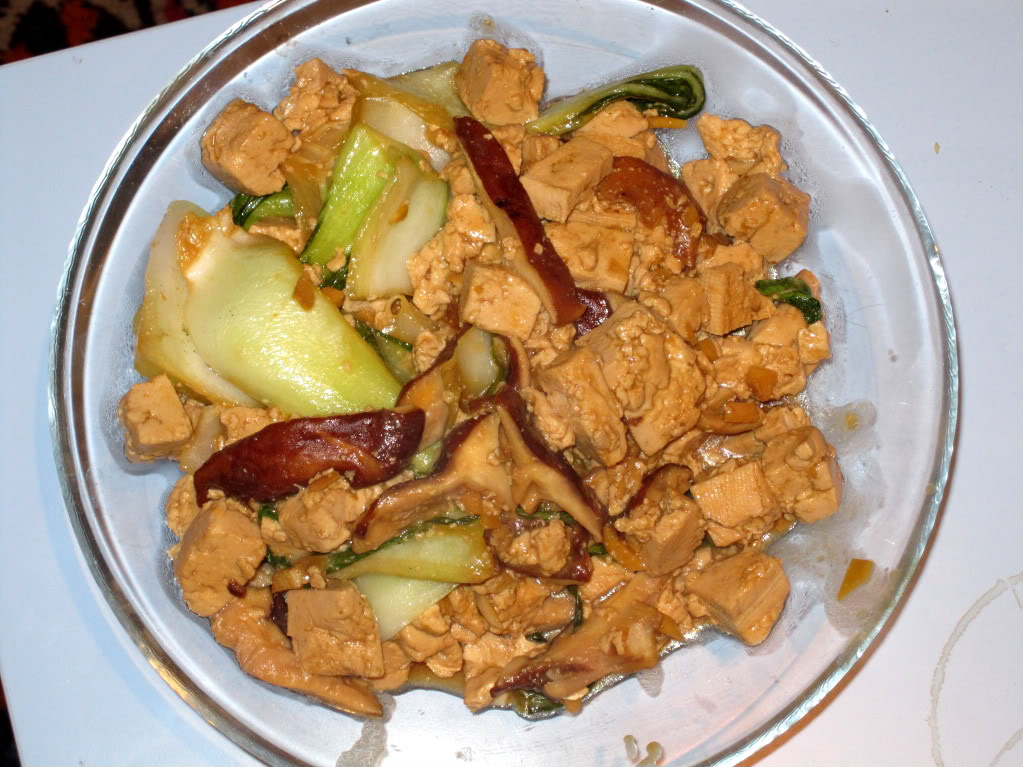 I've made a dish similar to this one a few times before and it's gone over pretty well. But recently I decided to shake things up and make a few changes to the recipe (actually, I just forgot to buy one of the ingredients). Anyway, the alterations were a huge hit with Mr. Goldhouse, who declared this dish to be his "probably new favorite." The delicious tangy flavor oozes into everything and because the tofu, bok choy, and shiitake mushrooms have such distinct textures, each bite is uniquely flavorful. Highly recommended!
Ingredients:
1/4 cup reduced sodium soy sauce
1/4 cup brown rice vinegar
1 tablespoon white miso
3 garlic cloves, minced
12 oz. firm silken tofu, drained and cut into 1/2-in cubes or crumbled
1 large head (or 2 small heads) of bok choy
2 cups sliced shiitake mushroom caps
Instructions:
1. Whisk soy sauce, rice vinegar, miso and garlic in a medium bowl. Gently stir in the tofu. Cover and marinate in the refrigerator for 15 minutes, stirring occasionally if necessary.
2. Drain the tofu, reserving the marinade. Add mushrooms to a large skillet or wok over medium-high heat and cook for 2 minutes, stirring often.
3. Add the tofu; cook, stirring often, until the tofu is lightly browned, about 4 minutes.
4. Shred the bok choy leaves over the pot, stirring them occasionally. Once all the leaves have been added, pour in any remaining marinade and stir everything together constantly for 3 minutes.
5. Reduce the heat and cover the pan for 3-5 minutes, less if you like your bok choy crunchy and more is you like it mushier.
6. Serve with brown rice if you desire. Enjoy!