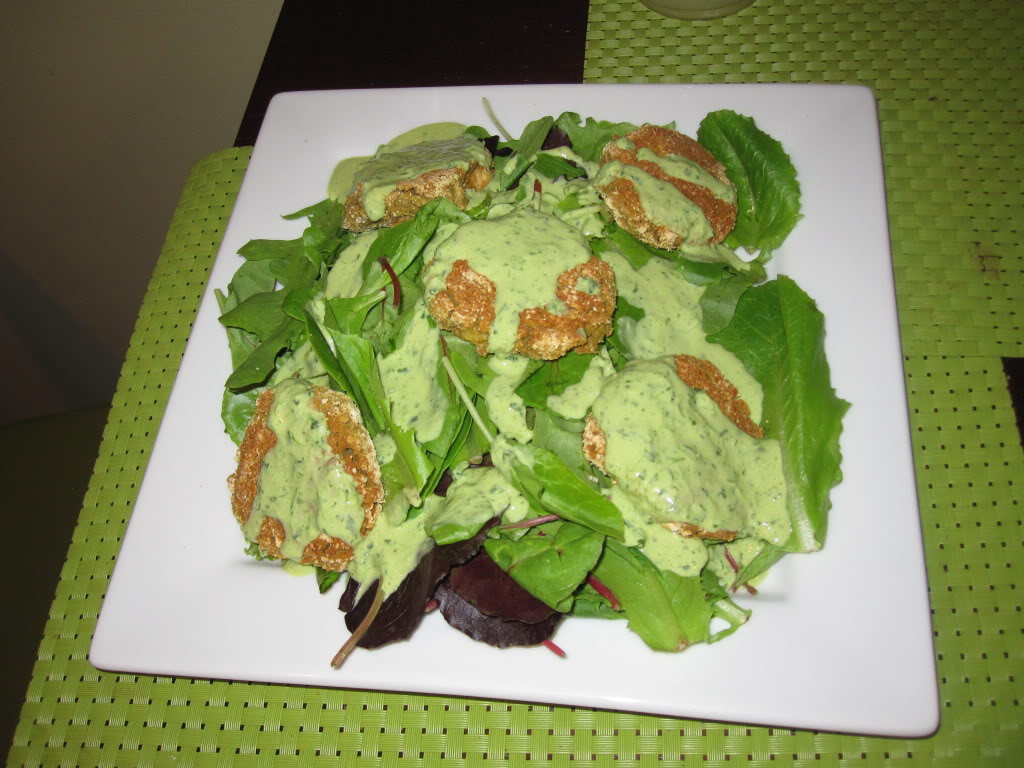 Crunchy on the outside and moist on the inside, everyone adores falafel. And as a plant-based dish these Middle Eastern patties are a natural favorite among vegans. The one draw back of falafel is that it's deep-fried, making it less than ideal for those of us concerned about our hearts (or waistlines). But worry not! This baked version will eliminate such concerns without sacrificing any flavor at all. We've been enjoying our falafel over greens with a tahini dressing (recipe also below) but they would also be delicious in a whole wheat pita pocket or wrap. Another new favorite!
Ingredients:
(Makes 12-14 patties)
2 (15 oz.) cans chickpeas
4 cloves garlic
1 small onion, chopped roughly
1 cup loosely packed fresh parsley leaves
3 teaspoons vegetable broth or water
1/2 cup chickpea flour*
2 teaspoons ground cumin
2 teaspoons ground coriander
1 teaspoon paprika
1 teaspoon baking powder
1/2 teaspoon salt, or to taste
Several pinches of freshly ground pepper
* 
If you have a good blender you can make your own by grinding up dried chickpeas till they turn to powder. You can find it at most health food, Indian, or Middle Eastern stores, or order it online (Bob's Red Mill is a popular brand). You could also use corn flour.
Dressing:
(Makes about 1 cup)
2 to 3 cloves of garlic
1/2 cup chives (dried or fresh is fine)
1/2 cup parsley
2 tablespoons tahini
2 tablespoons nutritional yeast
1 tablespoon miso
1/3 cup water
2 tablespoons lemon juice
1/2 teaspoon salt

Instructions:
1. Preheat the oven to 400 degrees. Pulse the chickpeas and garlic in a food processor.
2. Add the onion, parsley, and broth, and blend till relatively smooth.
3. Transfer the mixture to a mixing bowl. Mix in 6 tablespoons chickpea flour, cumin, coriander, paprika, baking powder, salt, and pepper.
4. Form the mixture into ping pong-size balls, then flatten a bit into patties. Cover both sides of each patty in chickpea flour.
5. Spray a baking sheet with nonstick cooking spray. Place patties on the baking sheet. Bake for 18-20 minutes; they should be browned on the under side.
6. Remove the pan from the oven, then flip the falafel and bake for 8-10 more minutes. Serve warm or cool.