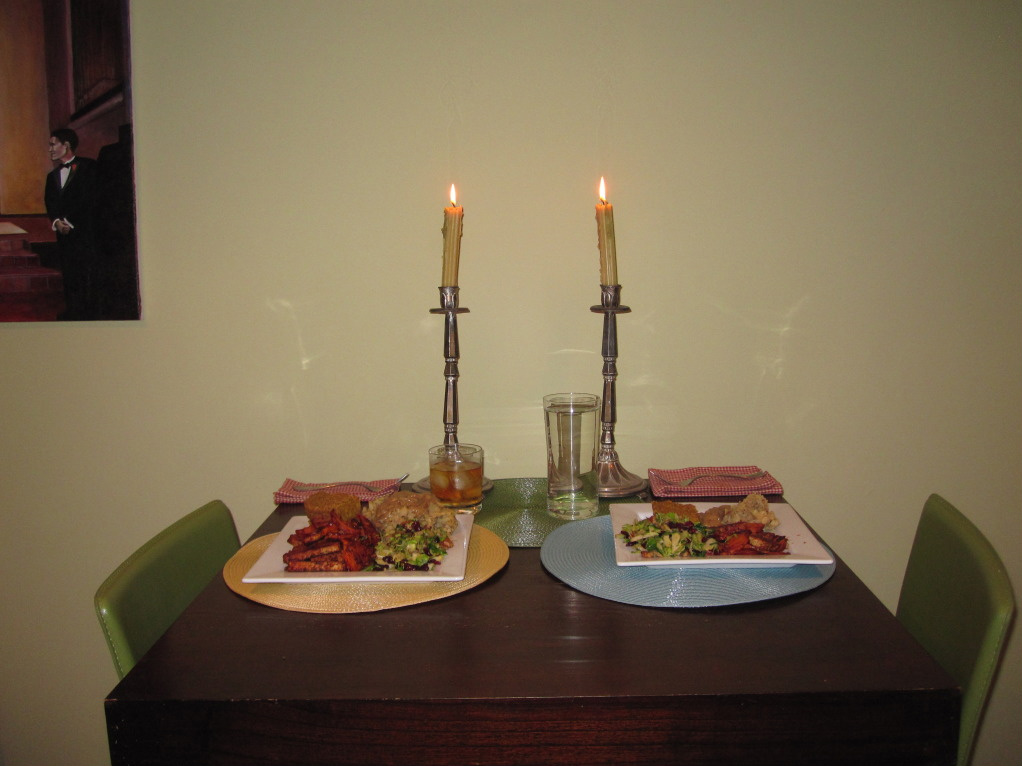 Shredded Brussels Sprouts with Toasted Pecans and Dried Cranberries
Garlic-Herb Mashed Potatoes and Cauliflower
Tamarind BBQ Tempeh and Sweet Potatoes
Pumpkin-Pecan Praline Cheesecake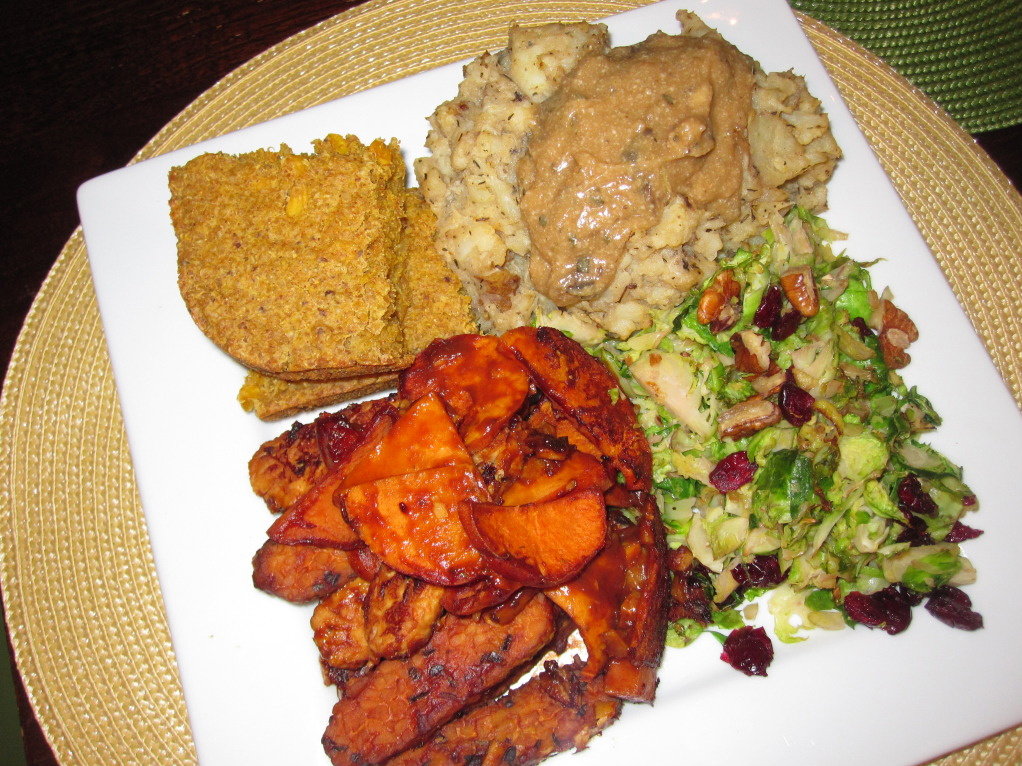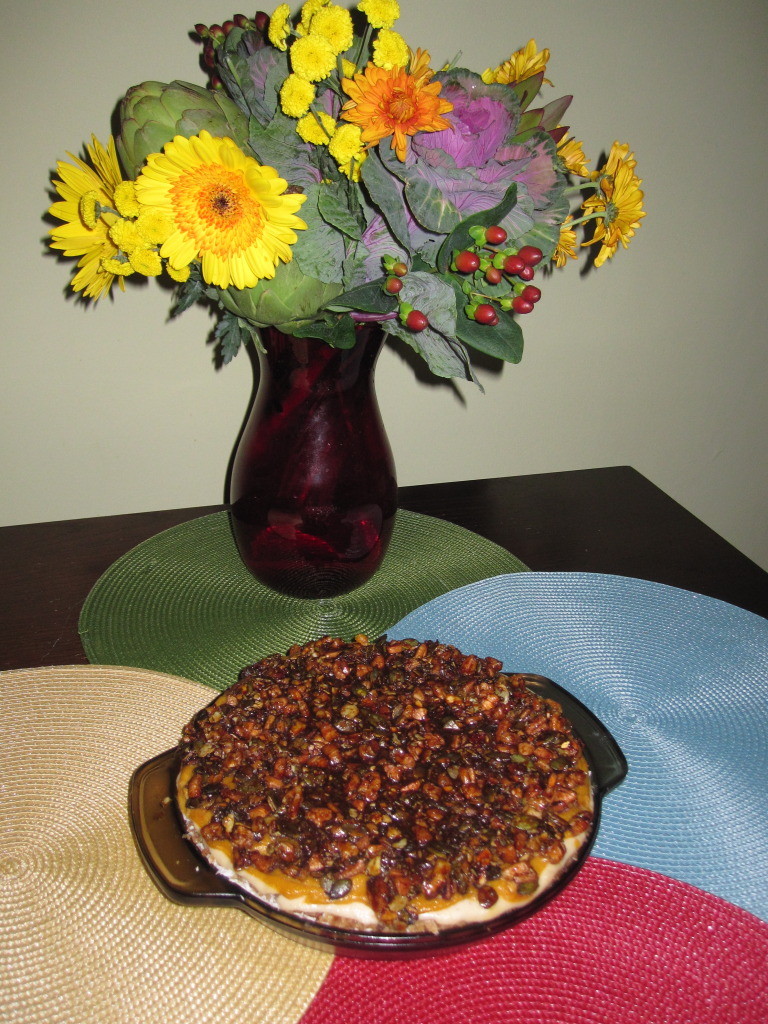 Shredded Brussels Sprouts with Toasted Pecans and Dried Cranberries
Ingredients:
1 lb. fresh brussels sprouts
3 oz. coarsely chopped pecans
3 tbsp olive oil
1/4 tsp salt
1/4 tsp pepper
4 oz. coarsely chopped dried cranberries
Instructions:
1. Slice the Brussels as thinly as possible, with a knife or mandolin. If you use a food processor, use the thinest slicing disk possible.
2. In a saute pan, toast the pecans over medium heat for 2 minutes.
3. Add the olive oil, then the Brussels, salt, and pepper. Stir continually until the Brussels are just tender and their color brightens, approximately 6 minutes.
4. Remove from the pan. Add the cranberries. Toss and serve!
Garlic-Herb Mashed Potatoes and Cauliflower
Ingredients:
2 russet potatoes, cut into 3/4-inch pieces
1/2 head cauliflower, cut into florets
4 cloves garlic, minced
1 tbsp olive oil
2 tsp dried thyme
1 tsp dried marjoram
2-4 tablespoons vegetable broth
1/2 tsp salt
Instructions:
1. Place the potatoes in a 4-quart pot in enough cold water to submerge them, making sure there are about 4 inches of extra water on top for when you add the cauliflower. Bring potatoes to a boil. Once boiling, add the cauliflower and lower the heat to a simmer. Let simmer for about 15 minutes or until the potatoes and cauliflower are tender.
2. Meanwhile, saute the garlic with the olive oil, along with the thyme and marjoram.
3. Drain the potatoes and cauliflower in a colander, then return them to the pot, and use a potato masher to mash them a bit.
4. Add the garlic and herbs, 2 tablespoons vegetable broth, and the salt and pepper, and mash a bit more. Use a fork to make sure all the seasonings are mixed well. if needed, add another 2 tablespoons of broth. Taste for salt. Serve warm.
(Source: Appetite for Reduction)
Ingredients:
6 tbsp olive oil
2 cups onion, peeled and finely chopped
2 cups finely chopped mushrooms, such as shiitake, oyster, chanterelle, or portobello
1 cup brown rice flour (if you can't find this in your grocery store make it by whizzing up brown rice in a blender)
1/4 cup tamari soy sauce
1 1/2 tsp dried sage
1 1/2 tsp dried rosemary
1 1/2 tsp dried tarragon
Instructions:
1. Heat 3 tbsp of the olive oil in a large skillet. Saute the onion and mushrooms until softened, about 10 minutes, and set aside.
2. In a medium saucepan, heat the remaining 3 tablespoons of olive oil and saute the rice flour over low heat to make a roux. Stir 2 cups of water, the tamari, sage, rosemary, and tarragon into the roux and mix well. Bring to a boil over medium heat, then simmer until the gravy is thickened and smooth, about 10 minutes.
3. Stir in the mushroom-onion mixture and cook over low heat until warmed through. If the gravy is too thick, add water 1 tablespoon at a time to achieve the right consistency. Serve at once.
(Source: The Candle Cafe Cookbook)
Tamarind BBQ Tempeh and Sweet Potatoes
Pumpkin-Pecan Praline Cheesecake
This recipe begins with my
raw vegan cheesecake
plus a pumpkin pie layer on top and then a pecan-prailine mix on top of that. Yum! Add these between steps 3 and 4.
For the pumpkin pie layer…
Ingredients:
1 cup canned pumpkin
2 tbsp tapioca flour (or use arrowroot or cornstarch)
1/2 cup non-dairy milk
1/3 cup sugar
1 tsp vanilla extract
1/4 tsp ground ginger
1/4 tsp ground cinnamon
pinch ground nutmeg
pinch allspice
Instructions:
1. Mix all the ingredients in a large bowl and stir until thoroughly combined.
2. Spread on top of the cheesecake with a spatula.
For the pumpkin-pecan praline…
Ingredients:
2 tbsp vegan butter (such as Earth Balance)
A couple shakes of cinnamon
A pinch of salt
1/3 cup chopped pecans
1/4 cup raw pumpkin seeds
2 tbsp light brown sugar
2 tbsp maple syrup
Instructions:
1. Grease a baking sheet and set aside. Heat a well seasoned, lightly oiled iron skilled over medium heat and add the vegan butter, cinnamon, sea salt, pecans, pumpkin seeds and brown sugar. Stir for a minute or two to toast the seeds and pecans. Add the maple syrup and stir till bubbling and sticky.
2. Remove from heat; spoon and spread the praline onto a greased baking sheet to cool. Break the praline into pieces for garnishing the top of the pie. Get ready for heaven!