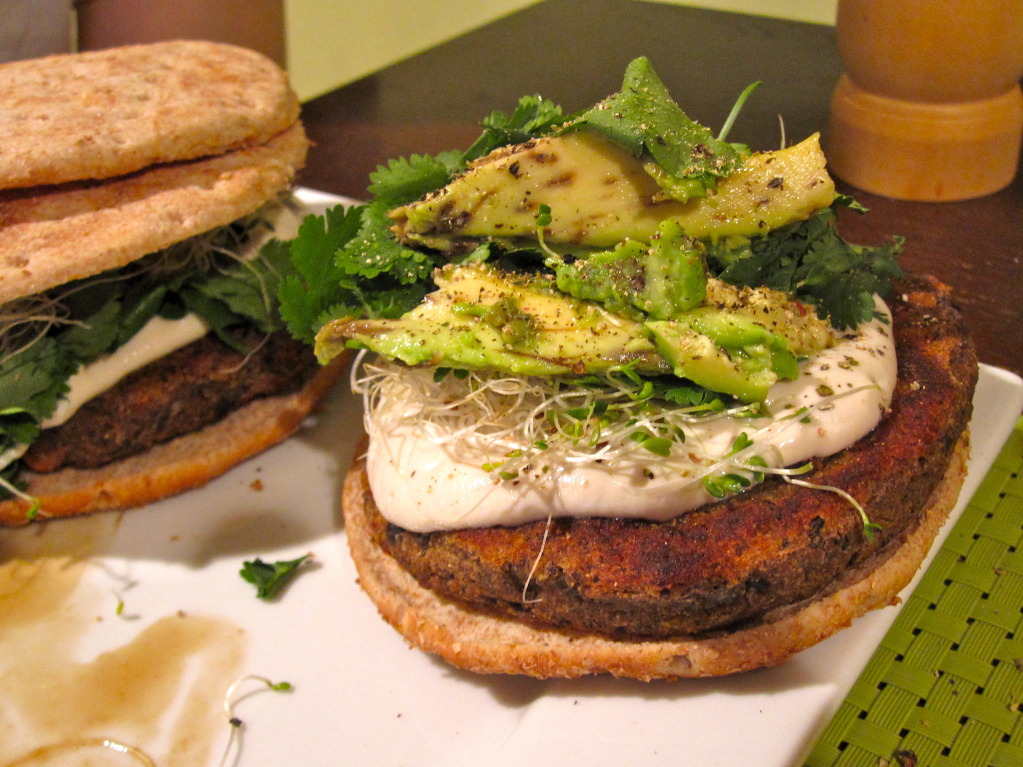 The recipe for these burgers come from a cookbook by Candle79, an amazing vegan restaurant in New York City. The burgers are flavorful enough that you don't even need toppings, but of course toppings are always great. The cashew mayo was a happy accident. We were out of veganaise so I quickly whipped something up with just a few ingredients and it was really, really good–light and creamy with a touch of saltiness. Puree 1 cup of raw cashews, 1 garlic clove, and 1 tablespoon tamari with 3/4 cup water. Cashews are such a versatile ingredient. You can use them to make anything from cream cheese to salad dressings to cake frosting. "Cashew" is also the cutest word ever. Cashew! Gazuntite.
Ingredients:
(Makes 8 burgers)
4 cups black beans, soaked overnight
1 cup peeled and diced carrots
1 cup peeled and diced onion
3/4 cup diced red bell pepper
3/4 cup diced yellow or green bell pepper
1/2 teaspoon salt
3/4 cup cornmeal
1/2 teaspoon ground cumin
2 tablespoons chili powder
1/4 teaspoon cayenne
1 cup chickpea flour (buy packaged or grind your own dried chickpeas in a blender)
1 1/2 teaspoons fresh lemon juice
1/2 cup chopped cilantro
optional: whole wheat or gluten-free buns, avocado, sprouts, sliced tomatoes
Cashew Mayo
1 cup raw cashews
1 garlic clove
1 tbsp tamari
3/4 cup water
Instructions:
1. In a large saucepan, simmer the beans in 5 cups of fresh water for 35 minutes. Drain the beans, reserving 1 cup of the cooking liquid.
2. In a large bowl, mix together the carrots, onion, peppers, salt, and cornmeal. Then stir in the cumin, chili powder, cayenne, chickpea flour, lemon juice, and cilantro. Stir in the black beans and form into patties. Add a bit of the reserved cooking liquid to the mixture to moisten if it is too dry. Or if you prefer a smoother-textured burger, blend half of the mixture in a blender until smooth and combine with the remaining mixture.
3. In a skillet, cook the burgers for about 3-5 minutes on each side. Serve with desired toppings and enjoy!
4. Puree all the ingredients for the cashew mayo in a blender until smooth.