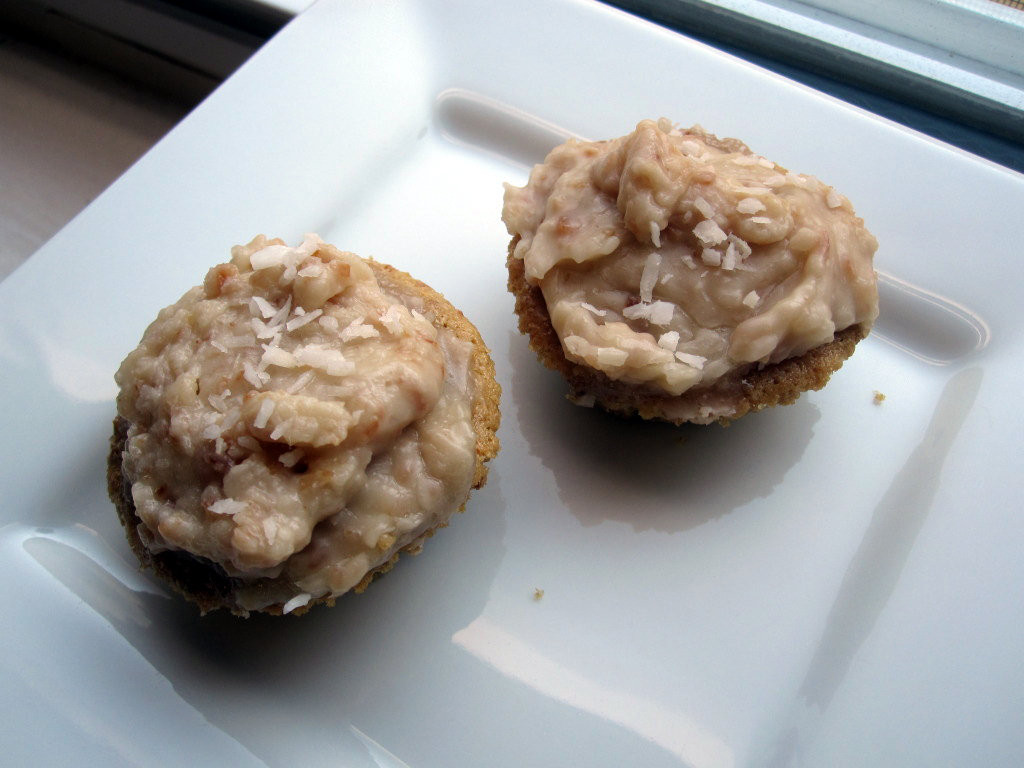 Growing up, Robert always had coconut cake on his birthday. Last week was his birthday (and mine!) so I decided to make something similar but with my own special twists. Instead of a cake I made mini cupcakes because they are just so cute and I don't think I've ever made cupcakes before. I also made them wheat-free by using oat flour instead of the typical white flour. And, as always, they are vegan, so no animals were harmed in the making of these adorable coconutty indulgences. While sleeping in a sugar coma, I woke Robert up to ask him his thoughts on the cupcakes (this is my little trick to get him to tell me what he really thinks about things). He said, "Oh wow, they were really different." Um, excuse me? What does that mean? "They were like no cupcakes I've ever had but they were perfect." Considering that he practically inhaled these cupcakes and has already requested them for his birthday next year, I'll take that as a compliment.
Ingredients:
Cupcakes:
1 3/4 cup oat flour (you can make this yourself by whizzing up oats in the blender)
1 cup sugar
1 teaspoon baking powder
1 teaspoon baking soda
1 1/2 cup toasted coconut
1/2 teaspoon salt
1 cup coconut milk (from a can or a carton is fine)
1/2 cup canola oil
2 teaspoons vanilla extract
1 tablespoon apple cider vinegar
Coconut frosting:
1/4 cup vegan shortening (such as Earth Balance)
1/4 cup vegan margarine (such as Earth Balance)
4-5 tablespoons coconut milk
3 cups powdered sugar
1 teaspoon vanilla extract
1 teaspoon almond extract
3/4 cup toasted coconut
Instructions:
1. Preheat oven to 350 degrees.
2. Mix flour, sugar, baking powder, baking soda, toasted coconut, and salt in a medium bowl and set aside.
3. Blend coconut milk, oil, vanilla extract, and vinegar in a separate bowl. Then mix the ingredients in both bowls, whisking till just combined.
4. Fill cupcake liners 2/3 full. Bake for 15-18 minutes or until you can stick a toothpick inside the center of a cupcake and have it come out clean.
5. For the frosting, blend the margarine and shortening together till smooth. Add the powdered sugar, a little bit at a time, and then the coconut milk. Then add in the flavorings and the toasted coconut. Mix well, decorate, and enjoy!