I recently finished filming an online video series, "Delicious Veggie Dishes," for eHow. There are 11 videos total, and in each one I cook up a delicious, healthful and easy recipe. I am so excited to share them! The entire series is now up on eHow, but I will be posting each video here one-by-one with some additional nutrition information.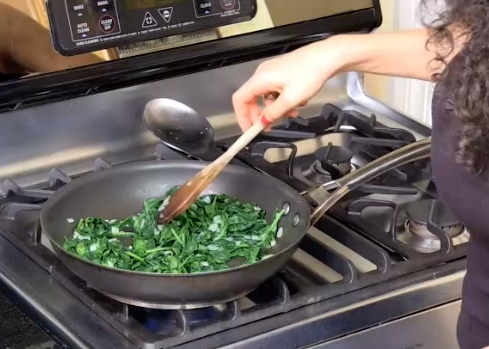 In the video below, I demonstrate how to saute spinach without adding the unnecessary calories and fat of butter or oil. Lest anyone think I am fat averse, notice that I top the spinach with pine nuts. This is because pine nuts are a whole food. In their whole state, high-fat plant foods such as nuts, seeds, avocados, and olives provide us with numerous health benefits. However, when we consume only the oils of these foods, most of these benefits are lost, leaving us with just pure artery-clogging fat and calories. Fortunately, swapping out butter or oil is quite easy, as you'll see.
I hope you'll find watching these videos helpful and inspiring. Please feel free to leave feedback, ask questions, and share with others!