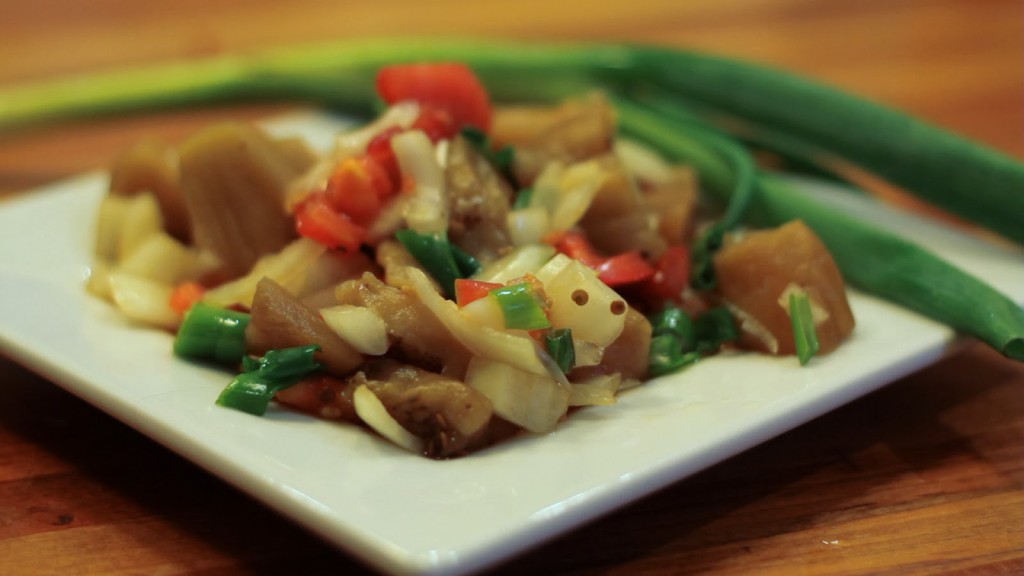 "Ensaladang Talong" is a traditional Filipino eggplant salad that is typically made with shrimp paste and lots of white vinegar. One of the reasons for so much white vinegar is because it helps reduce the fishy taste of the shrimp paste and the fish this salad usually accompanies. That just seems silly to me, especially when you could just not use any shrimp paste and serve it with something other than fish. Personally, I want to taste the ingredients in my dishes. If something doesn't taste good and isn't serving any particular function, then why bother including it?
In the recipe below, I show you how to prepare a fish-safe version of this salad. Since I wasn't using shrimp paste and, therefore, didn't need to worry about cutting any flavors, I used rice vinegar, which is milder and sweeter than white vinegar, and really enhances the tangy combination of the onion, tomatoes and chili.
I like to make this salad and then enjoy it in a variety of ways over the next several days. Some of my favorites ways to eat it are with grilled tofu, tossed with garbanzo beans, or over a bed of brown rice. What might some of your favorite ways to enjoy this salad be?

Ingredients:
1 large eggplant
2 tomatoes, chopped
1 onion, chopped
1/2 teaspoon salt (optional; I prefer to omit)
1 slice red chili
3/4 cup rice wine vinegar
2 tablespoons low-sodium soy sauce or tamari
2-3 scallions
Instructions:
1. Prick the flesh of one large eggplant with a fork and roast at 100 degrees for 45 minutes. Once cool, peel the skin, cut the stem and mash lightly with a fork. 
2. In a bowl, combine two chopped tomatoes, one chopped onion, one half teaspoon salt and one slice of red chili. Add the eggplant and then toss to mix. 
3. To prepare the dressing, mix three quarter cup of wine vinegar, two tablespoons of soy sauce and some freshly ground pepper. Pour the dressing over the vegetables and mix and then garnish with some sliced scallions.