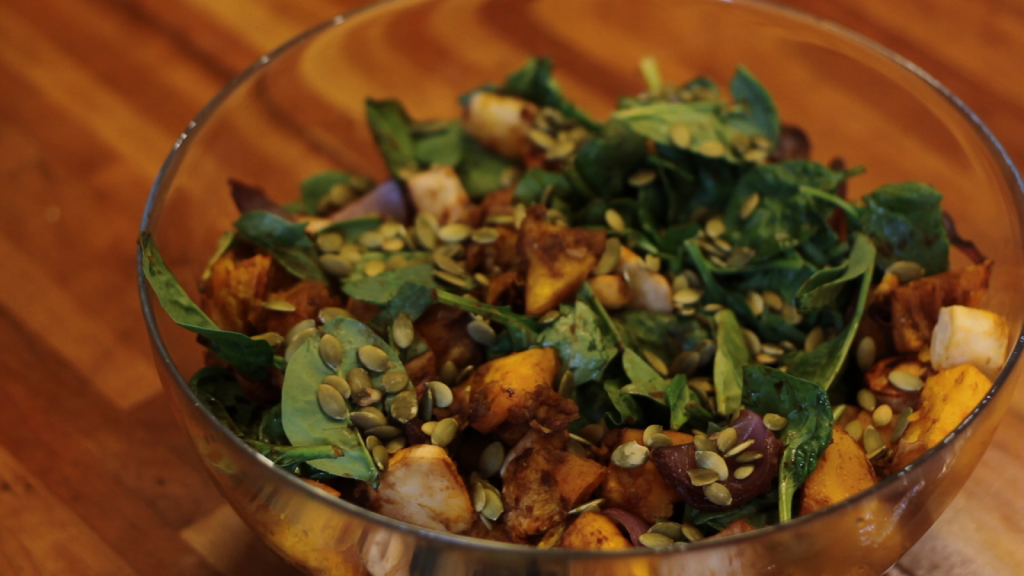 While this would, indeed, be a spectacular side salad for Thanksgiving, it almost seems unfair to make other dishes compete with this because it is such a star. Instead, I prefer to serve this hearty salad as an entree throughout the fall and winter months. For what it's worth, Mr. Goldhouse says this is easily THE best salad he's ever had, and one of the best dishes he's ever had. That is high praise, indeed!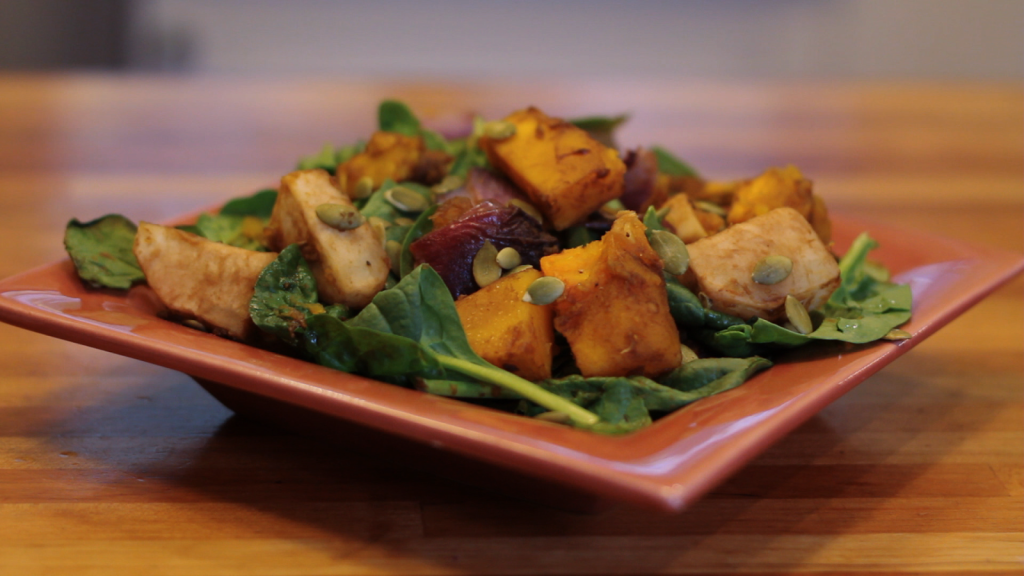 The roasted vegetables become as sweet as candy and because of their rich hues, it looks like you have gorgeous jewels on your plate. (For an even more bejeweled effect, add beets!) In addition to their beauty and deliciousness, root vegetables are also full of phytochemicals that help fight against cancer, diabetes, and heart disease.
Ingredients:
1 1/2 pound butternut squash
2 medium turnips or beets
2 medium parsnips
2 medium red onions
1 tablespoon fresh ginger
1 tablespoon maple syrup
1/2 teaspoon salt (optional)
1 tablespoon balsamic vinegar (more to taste)
fresh pepper, to taste
3-4 cups baby spinach
1/3 cup roasted pumpkin seeds (raw is fine too)
Instructions:
1. Preheat the oven to 450 degrees.
2. Peel all the vegetables and cut them into large chunks.
3. In a large bowl, toss the vegetables with the ginger, maple syrup, water, and salt if using.
4. Spread the vegetables in a roasting pan (I recommend lining it with parchment paper) and roast for 40-60 minutes, stirring half way through, until vegetables are very tender and caramelized. A good way to tell the vegetables are done is when the onions have lost all of their crunchiness and have become sweet.
5. Place the roasted vegetables on top of the baby spinach and top with pumpkin seeds. Season with balsamic vinegar and some fresh ground pepper to taste.